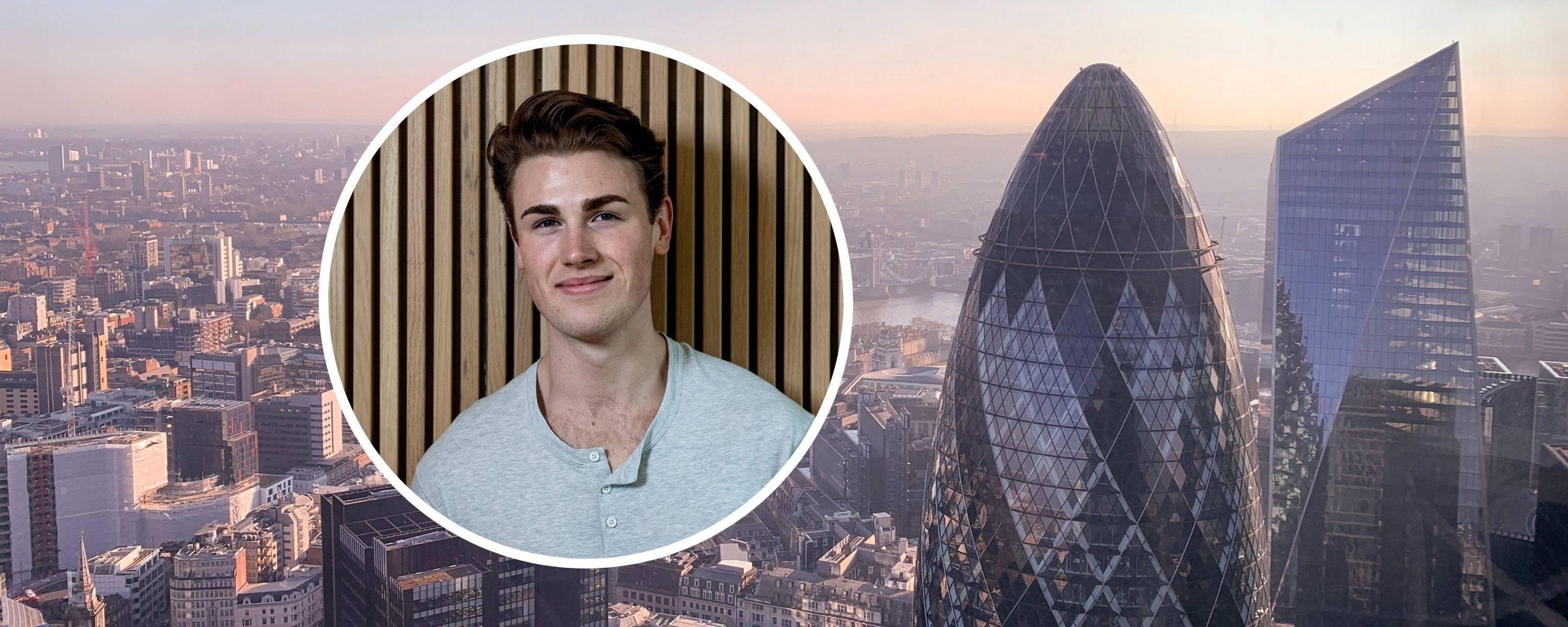 Got a job in London while being a NHH student
'Technological and economics skills are becoming more important than ever,' says former NHH student, Aelon Nicolson. He is now working as a Global Data Specialist at Bloomberg in London.
'I chose NHH because the school offers an internationally competitive academic setting. The school is the perfect size to deliver a diverse set of courses, clubs, and services to students while remaining a tight nit community of local and international students,' says Aelon Nicolson (24) from Victoria in Canada.
In August last year he started his position as a Global Data Specialist on the Funds Team at Bloomberg LP London. Nicolson is a former double degree student and a former student ambassador at the NHH Norwegian School of Economics.
'The transition from school to working at Bloomberg has gone better than I ever would have expected. Working and living in London is a massive change from the smaller towns that I am used to, but the city offers something for everyone, and there are always new things to do, shows and musicians to see, and people to meet.'
He says that the job is fast past and has provided him with a massive amount of exposure to the world's financial systems and a deep understanding of how both buy and sell side clients utilise data to inform decisions and conduct analysis.
'Amazing experience'
As a double degree student, Nicolson got the opportunity to graduate with two master's degrees. He spent his first year of the programme at Ivey Business School at Western University in Canada. The second at NHH in Bergen, pursuing the specialisation of his choice: Business Analytics.
Nicolson took the Business Analytics (BAN) specialisation because he wanted to learn statistical analysis and how companies can utilize the data they collect to discover new insights and inform business planning.
He also learned about programming and data management, how to employ tools like machine learning and artificial intelligence for automated decision support and more.
'Completing the double degree in BAN at NHH was an amazing experience, and I learned more data utilization than I would have ever thought.'
Gain highly in-demand skills
'Why is it important with technological skills as an economist?'
'In an ever-increasing digitized world, companies are looking for graduates equipped with skills in programming, data handling and analysis. A specialisation in BAN offers you just that. There are many avenues of business analytics to learn about and explore, providing ample opportunity for students to gain highly recruitable skills and discover career interests and opportunities they never knew they had.'
The world of analytics is constantly evolving, and there has never been a better time to become educated in business analytics, according to the former NHH student.
'The skills you will gain through the BAN specialisation will only become of greater importance and aid in your academic and professional development well into the future.'
MissES Bergen
Even though Nicolson is living his best life in London, he also misses Bergen. Last year's celebration of 17 May, Norway's Constitution Day, made a big impact on him. He will therefore not miss the chance to celebrate the big day in Bergen also this year.
'I really look forward to joining the celebration and hope the weather will be good.'
'Fingers crossed! One last question: 'What is your best NHH memory?'
'It is hard to select a single moment as the memories I have gained at NHH are unlike anything I have encountered before. Having the opportunity to attend a school so far from home and make new friends from different countries was a truly invaluable experience,' he says, and adds:
'Joining the NHHI Baseball Team was a highlight of my time there, and I strongly encourage new students to get involved on campus to make the most of their time at NHH.'