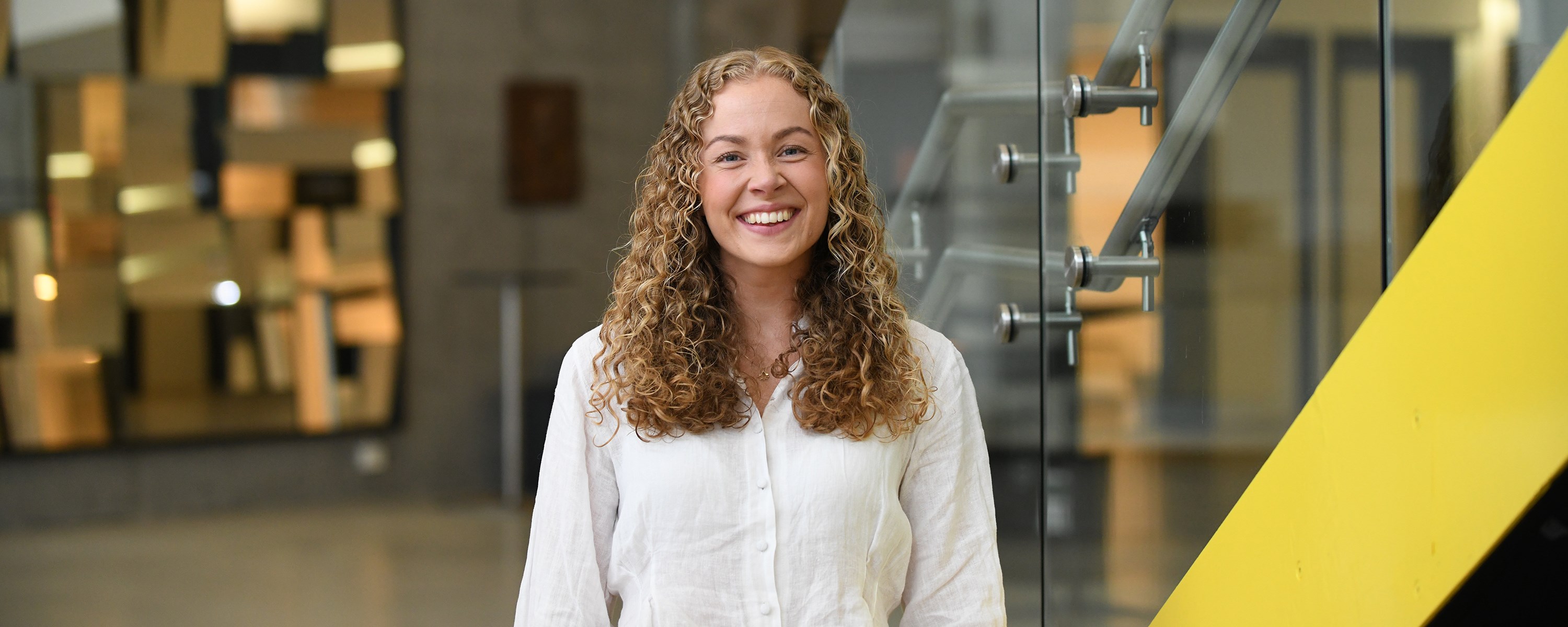 Chose start-up over consultancy
Mari Larsen Sæther (26) have a mother who happily remove rubbish from the street and a father who taught her to repair rather than buy new things. Now she is a business developer at the waste technology company Carrot.
'My interest in rubbish goes back a long way! Seeing the enormous mountains of waste at the recycling station in Ålesund also had a big impact on me. It made me realise that we have a huge waste problem, but also that this is something I want to help solve,' says NHH alumnus Mari Larsen Sæther (26).
She works as a business developer in the waste technology company Carrot. The company collects data on how much of the different types of waste households and companies throws away. They are in dialogue with actors abroad and are now preparing for international scale-up.
Also read: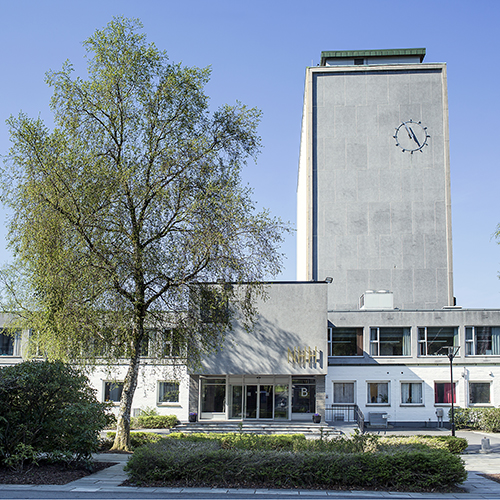 NHH Executive and AFF can boast a record-high ranking on the Financial Times sub-ranking, advancing two places from last year.
Rewards customers
Sæther says that very few people are conscious of how much waste they throw away, but by using the Carrot app they can monitor their own development and compare themselves with others.
'Once we know who's throwing away what, it's also possible to reward them for reducing their own residual waste. They get the proverbial carrot! Companies can also use the results in their sustainability reports, and communicate their reduced climate footprint as far as waste is concerned.
She says that the job is demanding:
'We're creating solutions for a greener future, but a lot of people still do not have that mindset. However, more and more people are beginning to understand now that this is important, and not just something that's trendy right now,' she says, and adds:
'The EU and the government are imposing stricter requirements for sorting, recycling and reporting. The cost of discarding residual waste is expected to increase through a higher carbon tax. Customers and investors choose the most responsible players. We believe that it will pay off for the companies that take action before they are required to do so — "be sustainable or die!"'
Also read: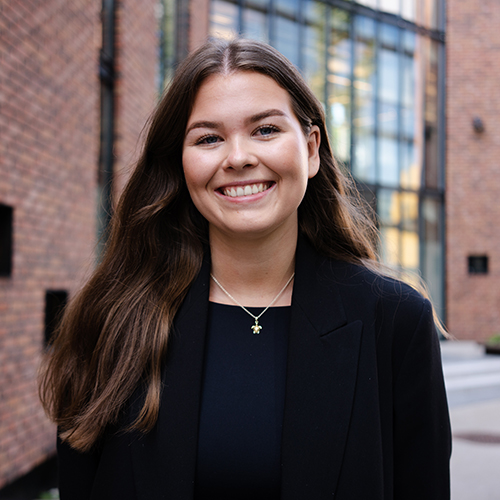 Vilde Glesnes (24) completed her master's degree during the pandemic and was offered a job while she was still a student. The same is true for most of the people with whom she studied.
'Give room to play'
In May, Sæther returned to NHH to participate in the ENGAGE.EU event 'Sustainability and societal challenges – can we walk the talk?'. She talked about why European educational institutions should be at the forefront of the green transition — and what she believes is required of them. ENGAGE.EU is an alliance of leading European universities in business, economics, and the social sciences. NHH is the only Norwegian member of the alliance.
'We still don't have the answers to how we should address the green transition. Give students room to play, explore and find answers across disciplines. The challenges we're facing require more than models and "ready-made" solutions — there's no set answer,' she says.
Sæther was clear that the educational institutions have a big responsibility:
'We have to create sustainable solutions for tomorrow, and that means we need more entrepreneurs. We can't sit around waiting for opportunities to develop. NHH has a responsibility to create a culture and room for innovation — and I encourage students to go all in with their projects already during their studies. Why wait ten years?'
The former NHH student says that she was actually on her way into the consulting industry when she was offered a job in the sustainability department of one of the 'big four' auditing companies one year before she finished her studies. After working part-time at Carrot alongside her studies, she decided to continue working there instead.
Entrepreneur at age 16
Although Sæther is only 26 years old, she will soon be celebrating the tenth anniversary of her company 'Lett på kroken'. As the name implies (krok means hook in Norwegian), it's about a hook' and — as with so much else in Sæther's life — it's about rubbish.
The business idea and the company were developed when she and her co-founders Ruth Søyset Jensen and Anna Fiskerstrand Bergsjø were taking the entrepreneurship programme at Ålesund Upper Secondary school. They noticed that the bags filled with plastic packaging were taken by the wind and spread in nature.
They designed a hook that can be attached to the waste bin's handle and used to hang the plastic waste bags.
'It was very fun to develop a simple solution to a complex problem. We learned first-hand what it's like to start your own company.'
'How's the company doing now?'
'It's still doing okay,' she says with a smile.
Read more on 'Lett på kroken' (2019):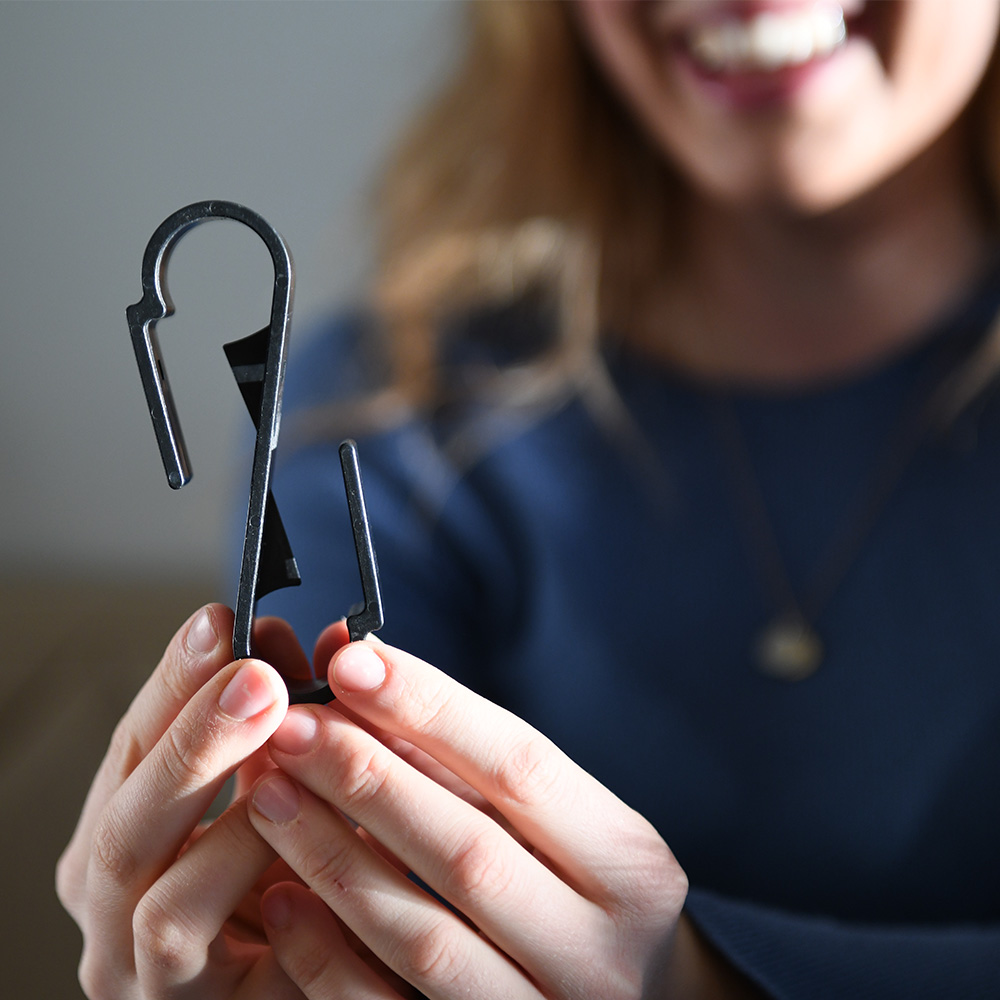 NHH students Mari Larsen Sæther, Ruth Søyseth Jensen (22) invested NOK 100,000 of their savings in a business idea to combat plastic pollution. Now, they are facing fierce competition from the waste collection industry.
Guiding star
Sæther is a well-known face at NHH. Lecturers have described her as a capable and committed student, and she is a former member of the NHH Board and the Executive Board of the Student Association.
In 2021, the newspaper Dagens Næringsliv named her a 'guiding star', an award given to 30 people under the age of 30 who want to make the world more sustainable through good ideas, decisive action or leadership skills. She is also on Ferd's 2022 list of inspiring young entrepreneurs and leaders.
'You've accomplished a lot at a young age. What will you do next?'
'I dream of one day starting my own business again. A circular economy is absolutely essential for creating a sustainable world, and we still have a long way to go. I'm keeping my options open and am very happy where I am now. What I know for sure is that I want to help solve our waste problem!'