Danish Dagrofa in profit
Dagrofa makes progress in 2022 results despite difficult market conditions. The food service and logistics businesses pull up the overall result. CEO Tomas Pietrangeli has succeeded in stopping the losses in Dagrofa and has now delivered two years of profits.
Dagrofa's annual net result for 2022 is DKK 74 million DKK, which is the food group's best in 11 years and almost 30 percent better than last year.
It is to a large extent the food group's food service and logistics businesses that drive up the overall annual result, while retail - in common with other market participants - has been challenged by difficult market conditions and high energy prices.
2022 is an interim culmination of the last five years of efforts to create a profitable business. The group's operating profit (EBITDA) has been steadily increasing throughout the period, and in 2022 it amounted to DKK 384 million. It is DKK 271 million more than in 2018.
"I am delighted that we have succeeded in creating significant progress and a positive annual result for the first time in a number of years. It has been a very challenging few years, where the corona shutdowns have been especially hard for all the country's restaurants, hotels and canteens. The past year has also been characterized by unforeseen events, such as the very violent price increases for energy that we saw during the late summer and autumn" says Niels Miles Frandsen, CEO of Dagrofa Foodservice.
"In 2022, however, we have generally experienced that the foodservice market has started to look like itself again, and this has naturally had a great impact on us. At the same time, we have also spent the year carrying out a number of internal operational optimizations."
"A third factor is that we have become better at retaining and winning new customers. This is not least due to the fact that we have become a more attractive partner through an even closer collaboration with our specialists such as HKI Cheese, Grambogård and Green Focus. The arrow points upwards for Dagrofa Foodservice, and we have launched a large number of strategic initiatives that will contribute to our continued progress. In 2023 and in the years to come, we will invest in, among other things in a completely new digital customer experience, a strengthened range in collaboration with our suppliers and a further development of our Cash&Carry stores," Frandsen states.
In 2013, NorgesGruppen bought 49 percent of the shares in Dagrofa from Skandinavisk Holding (owner of Scandinavian Tobacco Group). There is reason to believe that stronger owner involvement from NorgesGruppen in the last five or six years may have contributed to improving the logistics business in Dagrofa lately. That is on time; Dagrofa has so far not been a splendid investment for NG to say the least.
Hard times in retail will continue
In retail, the sharply rising inflation and sharply rising energy and producer prices have created challenges for the retail chains MENY, SPAR, Min Købmand and Let-Køb. Inflation and rising electricity prices have driven up costs for the merchants. At the same time, the Danes have saved on their grocery purchases, which has meant a lower turnover at a number of stores. In addition, producer prices have risen significantly more than consumer prices in Denmark, which has challenged the margins.
In January 2023, producer prices were as much as 21.9 percent higher than the previous year against 14.5 percent higher consumer prices.
"We have done everything we could to support the merchants in a difficult time. Among other things, we have set up an emergency task force and pushed politically to get inflation aid for the merchants, which the government met in February 2023 with an agreement on inflation aid for the hardest hit stores. Furthermore, together with the merchants, we have worked firmly to reduce energy consumption and optimize energy in the stores. This has helped to reduce the total energy consumption in the stores by almost 20 percent," explains Dagrofa CEO Tomas Pietrangeli.
Progress Together
In 2022, Dagrofa embarked on the new strategy «Progress Together», to improve Dagrofa's future growth and financial profits into 2025/26. According to Tomas Pietrangeli, the strategy is working as intended:
"We have reached our 2022 milestone of progress in operating earnings. We have had to adapt to new market conditions, but we have followed "Progress Together", Pietrangeli concludes.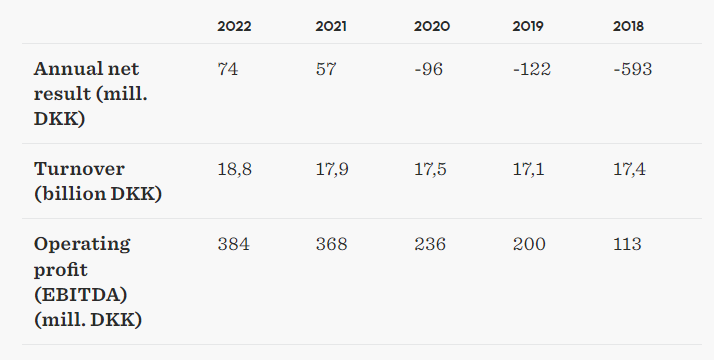 Sources: Dagrofa, Børsen, NG, Fagpresse.