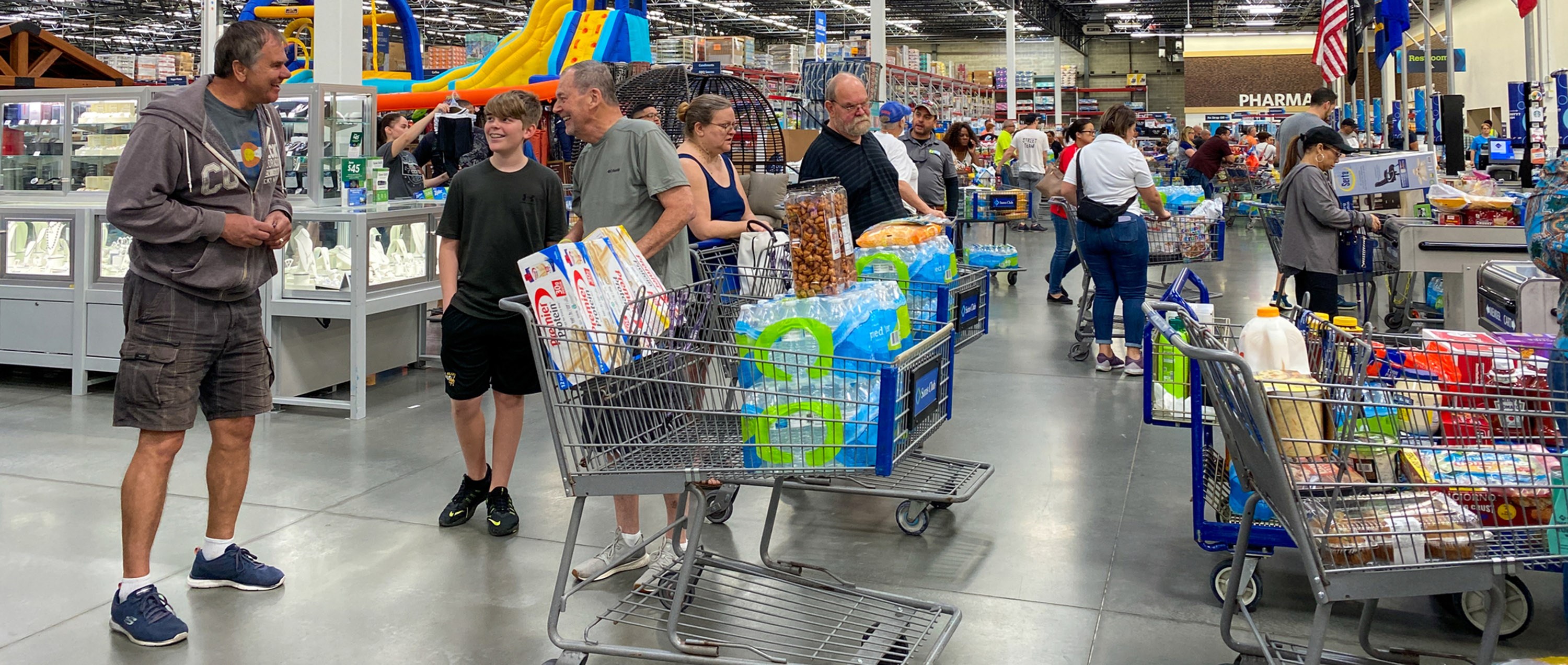 Walmart sales surge on coronavirus-led demand
Over the past couple of years, many experts have predicted that Walmart's time was over. The future belongs to online stores, some experts claim. Q1 for Walmart, however, tells a different story. The future probably belongs to strong retailers with both online - and – traditional stores.
Walmart has never grown as strong as in Q1 2020.
Walmart Inc (WMT.N) exceeded Wall Street expectations with its quarterly revenue and earnings on Tuesday 19 May and reported record U.S. online sales after consumers rushed to stock up on necessities during the coronavirus pandemic, writes Aishwarya Venugopal for Reuters.
Walmart investors like what they see
Shares in the world's top brick-and-mortar retailer were up 2% in morning trading and about 7% so far this year, far outpacing Wall Street's blue-chip index, DJI, which is down nearly 14% for the year.
Walmart, like many other grocery retailers, has seen a surge in demand late in March and early in April as "shelter-in-place" orders made consumers stock up on staples while limiting their trips to the grocers.
The retailer said that though demand for toilet paper, surface cleaners and groceries tapered off after initial hoarding, sales rebounded in the second half of April as consumers spent the money received as part of a government relief package.
"Toward the end of the quarter, another phase emerged, call it relief spending," Chief Executive Officer Doug McMillon told analysts.
He said sales have risen for categories such as apparel, TVs, video games, sporting goods, and toys.
Walmart executives said the stimulus checks have helped deliver a good start to the second quarter, but they did not expect spending to continue at the same pace.
Online up 74%
Walmart's online business rose 74% in the first quarter, as its investments in store pick-up and delivery paid off right at the time when demand for such services soared. It said the strength of its own online operation made it decide to discontinue Jet.com, the online start-up it acquired in 2016 for $3.3 billion.
The business was undergoing an overhaul last year by integrating its retail, technology, marketing, analytics, and product teams with Walmart's own online business.
Walmart added that grocery pickup and delivery for food and other consumables reached record sales volumes and saw high demand for electronics, toys, and sporting goods in the quarter.
Beat expectations
Overall, sales at U.S. stores open at least a year rose 10%, excluding fuel, in the quarter ended April 30. Analysts had expected a gain of 8.8%, according to IBES data from Refinitiv.
Total revenue rose 8.6% to $134.6 billion, also beating analysts' estimates for $132.79 billion.
Responding to a surge in demand, the group has been ramping up hiring, temporarily increasing wages and spending more on the maintenance of its stores and fulfillment centers and said additional costs related to the pandemic reached nearly $900 million.
Walmart U.S. Q1 comp sales1 grew 10.0% and Walmart U.S. eCommerce sales grew 74%.
Strong top-line results
Unprecedented demand for products across multiple categories led to strong top-line results. Certain incremental costs negatively affected operating income, including costs associated with enhanced wages and benefits as well as safety and sanitation.
"More than ever, the news this quarter is our amazing associates. They are rising to the challenge to serve our customers and our communities. I am proud of how they are adapting and performing. Our omnichannel strategy, enabling customers to shop in seamless, flexible ways, is built for serving the needs of customers during this crisis and in the future," says Doug McMillon President and CEO, Walmart
Due to the unclear situation financially and politically, Walmart does not want to speculate on how sales will develop in the months ahead. However, the market believes the world's largest retailer will do reasonably well in the foreseeable future.