Automation is necessary now!
Automation will reshape retail business models and the broader value chain, creating organizations with fewer layers and a better trained and trusted workforce empowered by real-time data and analytics.
The winners in the sector will be those who understand these implications and act quickly to address them, the consulting company Mckinsey concludes.
Retail is under pressure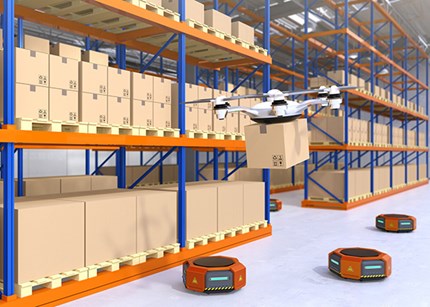 Margins are pushed from all sides: higher costs to manage e-commerce supply chains, growing demands from suppliers to pass on raw-material cost inflation, higher investments to match new competition, and steadily rising labor costs.
Over the past three years, the McKinsey Global Institute has conducted a broad-based research initiative on automation across sectors.
This research has shown that about half of the activities in retail can be automated using current, at-scale technology.
While this number is alarming, the change will be less about job loss and more about the evolution of jobs, the creation of new ones, and reskilling.
Only about 5 percent of all jobs can be fully automated with current technology, and automation will lead to the creation of jobs as companies invest in growth.
Margin pressure has made automation a requirement, not a choice
Retail-margin pressure is mounting, driven by more intense competition, investment in e-commerce, and pressure to increase wages.
These pressures are consistent across retail subsectors. McKinsey's analysis suggests that typical grocery and hypermarket retailers face 1 to 1,5 % margin pressure. Typical specialty apparel or department stores may face as much as 3 to 5% margin pressure.
A comprehensive automation program can significantly offset these headwinds. Automation initiatives across store, supply-chain, and headquarter functions can generate 300 to 500 basis points of incremental margin, which retailers can reinvest in their growth opportunities.
The bottleneck to automation is internal, not external
An assessment of available automation technologies shows that they can already operate a typical retail grocery store with up to 55 to 65 percent fewer hours.
The critical components include electronic shelf-edge labels, self-checkout terminals, shelf-scanning robots, and partially automated backroom unloading.
These technologies have been proved at scale and offer internal rates of return higher than historical retail hurdle rates—yet few retailers are moving quickly to implementation.
Retailers struggle to break free from the soft tyranny of budget cycles and the replication of last year's capital spending.
If you aren't already implementing automation, you are falling behind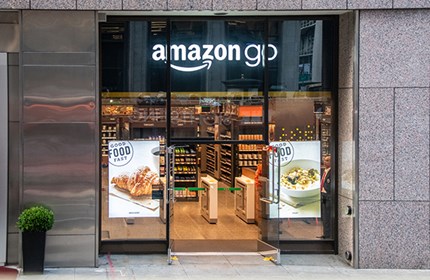 Amazon, which has made headlines with its Amazon Go retail concept, has been the most prominent disruptor. The company now operates ten Amazon Go stores, in three US cities, and the tech giant has ambitious expansion plans: 3,000 stores by 2021.
Analysis of the profit-and-loss impact of Amazon Go technologies hints at a high return on investment (ROI). McKinsey believe that Amazon can expect a 5 to 10 percent top-line improvement thanks to additional transacting traffic from reduced wait times and the use of customer insights to optimize assortments and personalize promotions.
Reducing labor costs and reducing the fixed-cost base can drive a 2 to 4 percent increase in earnings before interest, taxes, and amortization—to say nothing of the further potential from commercializing customer data and insights, Mckinsey argues.
Amazon is not alone
Take, for example, Kroger Edge: digital shelves (which the retailer rolled out across 200 stores in 2018) that display prices, nutrition facts, coupons, and video advertisements—all dynamically updatable from a central source.
Eventually, Kroger plans to link the shelves to shoppers' smartphones, allowing an increased level of personalization.
Ahold Delhaize and Albertsons have announced partnerships with Takeoff Technologies, a company that builds automated mini warehouses for the robotic in-store fulfillment of digital orders. Other retailers are exploring technology use cases for employee activities.
Target and Walmart have invested in autonomous cleaning robots that save hours of its associates' time. Walmart has also rolled out virtual-reality headsets to train associates, as well as the FAST Unloader technology to automate the backrooms of stores.
If recent headlines are any indication, the adoption of these technologies by retailers will accelerate.
The automation opportunities are big in the whole value chain
Much of the discussion about the future of work in retail has focused on the use for automation and AI in stores. However, supply-chain and headquarter functions (such as merchandising) will also be affected massively.
Advanced planning systems can automate historical data and generate predictive scenarios, significantly reducing the time needed to plan merchandise and empowering merchants to make faster decisions. Similarly, dynamic systems could automate pricing and promotions.
Supply chains offer several more automation use cases:
Target and Walmart have partnered with Swisslog to build warehouses with automated case picking.
Ocado sells its Smart Platform, a proprietary e-commerce warehousing solution, to other retailers, like Swedish ICA and Sainsbury's.
More broadly, automated smart robots can store, retrieve, depalletize, and transport products—all while calculating optimal routes through a warehouse.
Drones and robots can also be used for security and safety surveillance and for quality checks.