Waitrose plans to triple Online Operation
Less than three months after revealing the end of its partnership with Ocado, Waitrose has outlined plans to triple the size of its online grocery operation over the next three years. The upmarket grocer ambitions are to create a £1 billion operation online.
To support its plans, the group is linking up with Today Development Partners (TDP), a new technology business headed up by Jonathan Faiman, one of the original founders of Ocado, and Mo Gawdat, the former Chief Business Officer of Google's innovation arm, writes Kamcity.
The new partnership comes after it was revealed earlier this year that Waitrose's longtime agreement with ecommerce partner Ocado was not going to be renewed.
Customer Fulfilment Centers
CFC facts
Unlike warehouses that are more static or inactive, a customer fulfillment centre has continuous movement and is a much more complex operation:
Receiving inventory
Picking products
Packing boxes
Labeling shipments
Shipping orders
Managing returns Operations
Fulfillment centers will have cutoff times for orders to be placed by. For example, customer orders placed by noon local time will be processed in the fulfillment center and shipped out the same-day.
Conversely, a warehouse will typically need scheduled, less frequent pickups, since it is more cost-effective to ship freight and have boxes wrapped together on a pallet instead of generating individual shipping labels.
Waitrose.com delivery service was launched in 2000 and is growing at nearly five times the market.
Online grocery market growth is 3.2% (Kantar data, 52 weeks to 27 Jan 2019). Waitrose.com online grocery business grew by 14.2% in the same period.
Around £80m has been invested in Waitrose.com over the last five years.
The Waitrose.com service is provided through a combination of from-branch deliveries, and through the Coulsdon Fulfilment Centre, opened in 2015
Waitrose.com delivery is free on orders of £60 or more.
With TDP's help, Waitrose is planning to develop three state-of-the-art automated Customer Fulfilment Centers (CFCs), while harnessing new technologies to improve service for online shoppers.
Waitrose currently fulfils online orders through a combination of store picking and its CFC in Coulsdon, which opened in 2015. It has already revealed plans for a second CFC to serve the North London area.
The retailer's development of its online operations will be led by Ben Stimson, who is currently Retail Director. He has now been appointed to the new role of Digital Director, tasked with delivering its plans and managing the relationship with TDP.
Home delivery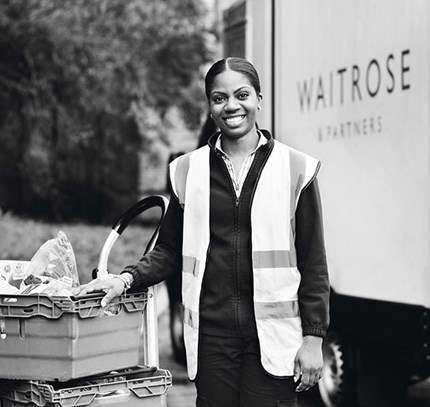 Rob Collins, the chain's Managing Director, commented:
"Waitrose.com is a popular and efficient home delivery service that is already growing strongly ahead of the market. The plans announced today represent a clear commitment to achieve rapid change in Waitrose.com's capacity and capability as we build a modern, well-invested digital business that is fit for the future."
5 percent by 2022
Brereton, Retail Analyst for GlobalData, commented:
"Waitrose's new partnership with TDP will provide it with the capacity needed to compete in an increasingly competitive online food & grocery market, potentially doubling its share of the market to 5% by 2022 – a resilient move in the face of the termination of its supply deal with Ocado next September. This appears a shrewd strategy, with GlobalData forecasting the online food market to grow 29.1% to £19bn by 2022 – significantly faster than the 8.8% growth of the whole market over the same period."
Sources: Waitrose, Kamcity, Reuters, Retail News.