ICA will halve food waste by 2025
ICA, the Swedish grocery giant with more than 50% market share in its home market, adopts new targets for reduced food waste.
Food waste from warehouses and stores in Sweden and the Baltic countries shall be halved by 2025 compared with the base year of 2016.
Some key elements to reach the new target is smarter algorithms, development of circular products and procedures for early identification of foods at risk of loss.
ICA Group has worked actively to reduce their food waste for many years, but now introduces both clear objectives and a methodology to measure and monitor food waste.
FLW Protocol
Food excess will be calculated according to an international standard developed by FLW Protocol (Food Loss and Waste protocol) and reported in the ICA Group's sustainability report.
FLW Protocols standard is used by many companies for the monitoring of food waste, thus enabling the ICA Group to compare ratios with those of other countries and companies.
From 1,65 to 0,8 weight percent
In 2016 the ICA Group's food waste 1.65 weight percent of total sales, which means that for each ton of food sold there was a loss of 16.5 kg of food in ICA's value chain.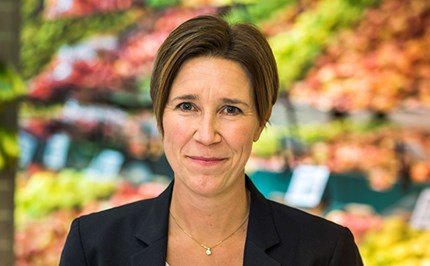 "We have set an ambitious target to halve our food waste by 2025. Good planning and a structured, proactive way of working is very important. It is also imperative that we work with innovative digital tools that helps to identify food that risks being lost," says Kerstin Lindvall, Sustainability Director, ICA Group AB.
Cooperation is important
Circular products where raw materials at risk is used to manufacture new products are important elements for reduced food waste.
"ICA store tasks include price reductions for goods that expire, cooking in stores and partnerships with charities. For example, in Gotland we buy eggs with imperfections that we use for making pancakes," states Lindvall.
Goods with a short expiration date are sold at reduced prices in shops or via the app Karma. ICA centrally and many stores give good food (that still does not sell) to charitable organizations like the Salvation Army, City Mission and Food2change.
Collaboration with suppliers to develop products of leftover ingredients is important. The companies Rescued Fruits and Refood makes juice and smoothie of fruit and vegetables that cannot be sold in some of the stores.
Rimi Baltic is starting to work with the Whywaste tool, which supports the store in identifying the waste; in time to fix the problem. Since a few years back several ICA stores in Sweden work with Whywaste and Deligate as well as an internal system.