Ocado plans one-hour delivery
Ocado's new service Ocado Zoom is set to be tested in West London in March. It will offer customers on-demand "small batch delivery" in one hour or less! One hour, of course, is a formidable logistical challenge.
Ocado Zoom is set to target the sub £60 section of the market. Ocado CEO Tim Steiner insists that the new service is a response to customer demand, not because of the threat of Amazon's Prime Now service.
"Amazon is not a big factor today in the UK grocery market – the competition market is really between us and the big bricks and mortar retail operations," he says to Retail Gazette.
"Amazon haven't made a big impact in the UK grocery space."
Steiner ads that Zoom's range of SKUs would be full, instead of just a few thousand normally available in a local supermarket shop
Cooperate with leading retailers
Ocado is currently in a food delivery deal with Waitrose, but news emerged last week that M&S might step in when the existing contract ends next year.
The online grocer also has a deal with Morrisons, as well as contracts as a technology provider for major grocers around the world such as Kroger, Sobeys and Casino.
In Sweden they have a deal with the grocery giant ICA.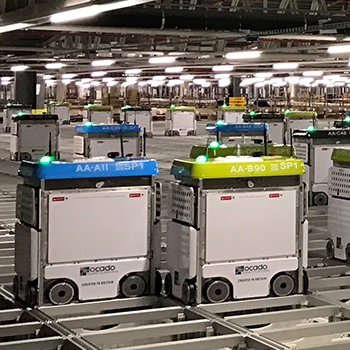 Ica Sweden will invest approximately 600 million SEK in a fully automated e-commerce solution from UK Ocado in 2018-2022.
Disturbing fire
Firefighters were tackling a fire at Ocado's flagship automated distribution center in Andover, southern England last week.
The market feared big damages to the warehouse and shares plummet more than 5 percent in the short term, however the shares hit back a few days later.
Still not earning money
The group, founded by three Goldman Sachs bankers 18 years ago, has nearly doubled its stock market value over the past year after striking deals to sell its technology to other food retailers wanting online delivery.
The company, which on Tuesday last week reported full-year earnings and advised that investment in partnership deals would hit short-term profits, said the fire had smaller impact then first feared.
The Andover plant, which can process 65,000 orders a week, is Ocado's third automated warehouse, or customer fulfilment center as they like to call them, has been instrumental in the firm winning major overseas partnership deals, including U.S. group Kroger Co.
While Ocado's first two warehouses required humans to load thousands of small containers travelling on miles of conveyor belts, Andover has hundreds of robots speeding along at 15 km, per hour.
Ocado reported a pre-tax loss of £44.4 million in the year to 2 December, compared to a loss of £8.3 million the previous year. However, sales rose 12.3 per cent to £1.59 billion.
Sources: Retail Gazette, Reuters, Ocado, Ica.