Travel letter from Seattle
Assistant Professor and DIG affiliate Aruna Divya Tatavarthy has been on a research visit to Foster School of Business in Seattle. Here's her report.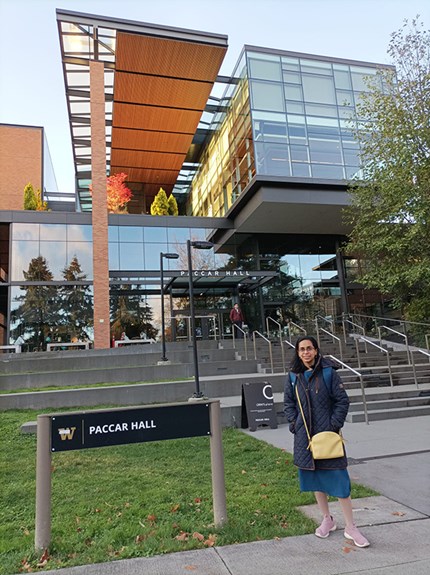 A big advantage of being in academia is the opportunity to explore different universities and learn from other disciplines. Short international research visits are useful for scholars in both early and advanced career stages.
I had the opportunity to spend a 5-month research stay at Foster School of Business, University of Washington, Seattle. My host faculty during my stay was Nidhi Agrawal who is the Michael G. Foster Endowed Professor of Marketing.
BUILDING NEW RESEARCH PROJECTS
One of the pillars of my research portfolio is centered around understanding decision making with respect to durable goods. Specifically, with my co-author Professor Agrawal, we have been working on projects related to sustainable decision making, such as repairing products.
When a product shows signs of failure, do people consider information about how much they have used the product? Interestingly, we found that individuals rely on information about how "others" have typically used and repaired/replaced their products, for making their decisions.
During my stay in Seattle, we worked on two more projects related to the broad idea of making product-repair cool! With brands such as Levi's trying to encourage their customers to bring their old jeans for repairing, the idea of buying products that can last longer is gaining acceptance.
But do individuals perceive others who chooses to repair an old product (instead of replacing with a new one) as cool? Or do they judge them to be thrifty? Our findings so far have shown that individuals form positive judgments about a brand that encourages them to repair their product.
However, most interestingly, they make contrasting judgments about individuals engaging in repair behavior. We found that people judged their peers choosing to get their old products repaired to be thrifty and considered to be unsophisticated.
PREPARING FOR THE ADVANCES IN CONSUMER ANALYTICS
As a marketing researcher, I have always looked at how advances in consumer analytics can help in better understanding consumer decision making processes.
Relatedly, I teach a course on strategic market analytics for digital businesses at NHH that helps the students understand how companies use consumers' digital footprints to develop their analytical models.
As I look back now, I realize that my research stay in Seattle was particularly useful for my course-delivery at NHH. The opportunity to engage with highly experienced researchers and practitioners from top technology companies in Seattle, gave me a deeper perspective into how digital marketing analytics is being put into practice.
FROM RESEARCH VISIT IN THE USA TO RESEARCH GRANTS IN NORWAY
I took advantage of the University of Washington's Schools and Departments to engage in diverse activities: I presented my research across different seminars, attended classes from School of Computer Science, and exposed myself with the research updates from in digital humanities and human-centered design.
This exposure helped me in my EU-Horizon (MSCA) Grant Proposal where I proposed to uncover the role of trust in artificial intelligence, particularly within human interactions with conversational chatbots.
Soon after my return from Seattle, my colleagues Helge Thorbjørnsen, Siv Skard and I started planning towards developing my MSCA grant proposal to a larger grant for the Research Council of Norway. We were broadly interested in understanding how technology can influence better design and delivery of health services for the aging population of Norway.
I think of my journey to and back from Seattle as a trip to an open garden. I went with a couple of seedlings (new research ideas and grant proposal drafts) and returned with new seeds and plants (new collaborative research projects) to be nurtured in the times to come.