Students' lecturer award to Santos
Associate Professor Francisco Santos has received this year´s Bronsesvampen for his extraordinarily good teaching effort.
`I was honored for receiving this award. It's very rewarding to be recognized for the hard work´, Francisco Santos says.
create enthusiasm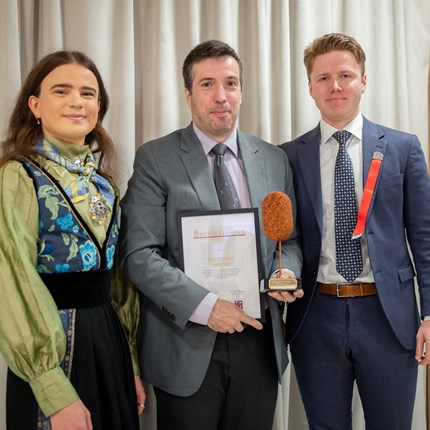 Earlier in May, Associate Professor Santos at the Department of Finance received "The Bronze Swamp", which is the bachelor students' lecturer award at NHH Norwegian School of Economics.
The elements considered are:
general teaching skills
the ability to create enthusiasm for and interest in the subject
innovation and creativeness in teaching
the ability to relate the subject to the business sector and the real world
His course Business Cases gives the opportunity to learn business fundamentals in finance, marketing, operations, organizational behavior and general management. The course is delivered using the case method, which challenges students to learn by doing, within an active class environment.
Proud of his students
`I have to say that teaching FIN14 was already one of the highlights of my semester even without the award. It's a lot of fun to teach when you see students engaged, participating, debating problems and solutions´.
Santos is so proud of his students:
`Give students real life problems and they really put in the extra effort. Honestly, I only got the award because of the amazing students I had in class´.