Responses to subtractive change
On Tuesday 13 September 2022, Julie Salthella Ågnes will defend her thesis titled «Collective employee narratives and responses to subtractive change» for the PhD degree at NHH.
Prescribed topic for the trial lecture:
«Compare Individual and Collective Responses to Large-scale Organizational Change»
Trial lecture:
10:15-11:00, Jebsen Centre, NHH
Title of the thesis:
«Collective employee narratives and responses to subtractive change»
Summary:
Employees are central to organizational change efforts. Employees are both recipients and contributors during change, and their collective responses can be consequential for the success of the change initiative. Contemporary organizations initiate change faster and more often than before, and need both handle different change types, and develop a capacity to handle multiple and overlapping change.
Traditionally, research has treated employees as passive or resistant of change and discussed how managers can handle the anticipated resistance. In the doctoral thesis, Julie Salthella Ågnes seek to understand how employees may take a constructive and active role in change. This evens if change is of subtractive character and leads to altercation or loss of tasks. Subtractive change involves discontinuing or losing activities or aspects of the organization and can be hard to handle for involved employees. Ågnes also explores the conditions managers and the organization can build to facilitate constructive change processes and build change capacity.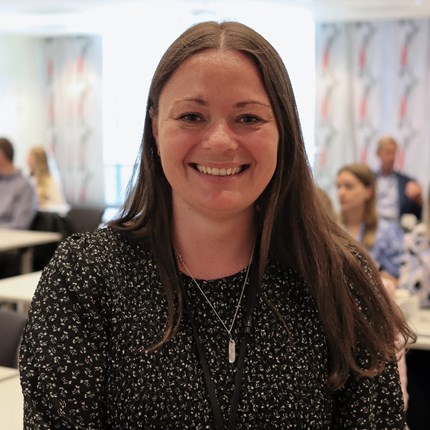 The thesis builds on studies from the Norwegian financial sector. This sector has over time been challenged by digital transformation and changing customer needs, which provides a fruitful setting to explore and understand employees role in change.
Paper 1 consider employees role in a change process involving the transfer of tasks abroad ("offshoring"). Employees contributed to transferring tasks, as well as preparing to lose their own tasks and close colleagues. Some employees chose to quit or to go into early retirement, as opposed to searching for new challenges in the company. The study show employees creating constructive and positive change narratives, characterized by being rational, future-oriented, and relational. The organization and managers supported the employees and the narratives. Through this the employees found meaning in their work, and contributed to a successful implementation.
Paper 2 consider employees responses to robotization in three Norwegian banks. In this study, the employees also had to handle a change involving loss of tasks while being important for the success of the change. The organization (and managers) supported the change in different ways, but the employees themselves also took on an active role in shaping the constructive and positive responses. The responses to change were multidimensional along an affective, behavioral, and cognitive dimension. The study amongst other show how anthropomorphism of the technology contributed to employees understanding and handling of the process – and welcoming their new digital collegaues into their workday.
Paper 3 is written together with professors Christine B. Meyer and Inger G. Stensaker, and further explores one of the case companies from papers 1 and 2. In this study we explore how the organization, through its HR function, can develop change capacity. Change capacity refers to the organizations ability to implement change, while maintaining daily operations and not harming subsequent change initiatives. An important finding in this study is HR's toolbox, equipped with practices and processes that in different ways build organizational change capacity.
Overall, the thesis contributes with insights to employee's collective role in change. This is done through exploring responses and change narratives in two subtractive change processes, and by exploring how organizations can build change capacity. Through building change capacity in the organization and among employees, organizations can strengthen their ability to succeed with change, even if change is subtractive and involve loss for affected employees.
Defense:
September 13, 12:15 – 14:00, Jebsen Centre, NHH
Members of the evaluation committee:
Professor Karen Modesta Olsen (leader of the committee), Department of Strategy and Management, NHH
Assistant Professor Jill Paine, IE Business School, Madrid
Professor Tobias Fredberg, Chalmers University of Technology
Supervisors:
Professor Inger G. Stensaker (main supervisor), Department of Strategy and Management, NHH
Professor Christine B. Meyer, Department of Strategy and Management, NHH
Professor Martin Friesl, University of Bamberg
The trial lecture and thesis defense will be open to the public.