Wanted professional top-up – funded an MBA herself
Charlotte Berg-Svendsen went from working for a large international corporation with over 120,000 employees to a small start-up. Prior to this decision, she registered for an executive MBA.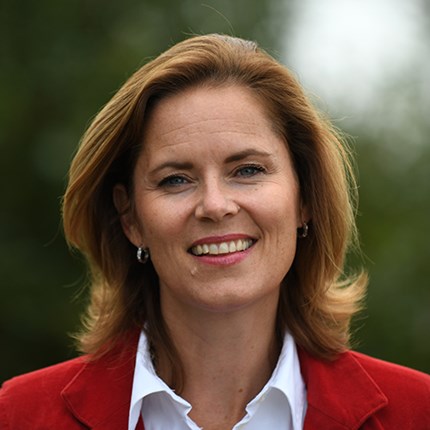 Charlotte Berg-Svendsen had just resigned from an executive position and was contemplating what to do next when a friend called her:
'He asked if I wanted to take an MBA with him. I'd considered taking one for years and thought "yes, now I finally have the chance"' she explains.
Berg-Svendsen, a law graduate, did not need much more time to think before registering for an MBA in Strategic Management at NHH. She sent the application in December and the programme started in January.
She is paying for the MBA herself, in contrast to most of her peers whose employers pay for the programme.
'The programme is a gift to myself. I was between jobs and had time to put myself and my future first,' says Berg-Svendsen.
The MBA in Strategic Management is aimed at experienced managers who wish to develop their expertise and network.
Had experience, needed professional top-up
Berg-Svendsen's motivation for taking the MBA was exclusively professional development:
'I've held many strategic international leadership positions and the way I've acquired expertise is through "learning by doing" or "on the job training". I've accepted all the challenges I've been dealt and grown from them, but over the years, I've felt that I lacked a wider frame of reference. As a law graduate, I like having a theoretical basis for my work' she says.
Programme Director Inger G Stensaker says that the popular MBA attracts participants with a wide variety of backgrounds and experience.
'We have everything from economists and social scientists to doctors, lawyers and engineers on the programme. The mix creates a good group dynamic. Berg-Svendsen has an interesting background with management experience from both a large international corporation and, more recently, a small start-up company,' says Stensaker.

Pre Diagnostics
Pre Diagnostics is a start-up company established in 2013.
The company is developing a new method of diagnosing Alzheimers at an early stage.
A prototype of the product is likely to be ready for clinical trials in the first quarter of 2020 and the diagnostic test is scheduled to be launched in the European market in 2022.
The company also works on treatment for Alzheimers and owns the intellectual property rights for a combination product that will be developed for this purpose.
It received EURO 2.2 million in funding through the EU Horizon 2020 project in December last year.
It has previously been granted funding from Innovation Norway and the Research Council of Norway, and has raised close to NOK 30 million in equity.
The company collaborates with Akershus University Hospital, among other institutions.
Its office is in ShareLab in Oslo Science Park.
Developing a test for Alzheimers
Berg-Svendsen is now Chief Commercial Officer at Pre Diagnostics, which is a start-up with offices for five people in Oslo. The company is developing a brand new method of diagnosing Alzheimers at an early stage.
Around 77,000 people in Norway currently suffer from dementia and this figure is increasing in step with the number of elderly persons. The figure worldwide is almost 50 million.
'The method will be groundbreaking because it means you can test whether a person has or is about to develop Alzheimers by means of a simple blood test – possibly many years before clinical symptoms such as memory loss kick in,' says Berg-Svendsen.
From rock concert to echo in the corridors
Berg-Svendsen previously worked at BASF, which is a leading global company in the field of chemicals with over 120,000 employees. She held a number of executive positions there, most recently in connection with the company's global operations in omega-3.
'The transition from BASF to Pre Diagnostics was huge. It was almost like going from a rock concert to a chamber music recital. At times it's so quiet there's an echo in the corridors or when I work from home,' she says with a smile.
Although Berg-Svendsen clearly sees the advantages of working in a small company, she does not necessarily agree that smaller is better:
'The grass isn't greener on the other side, but it is different! I've learned a great deal from being part of a large international system, but I'm now able to be part of building up a company from scratch, which is an exciting challenge!'
Berg-Svendsen has the following advice to executives who are contemplating switching from a large company to a start-up:
Talk to others: Talk to people in your network to gain an understanding of the basic differences between working in a large company and a start-up. Often, you need different skills to succeed and maybe also to enjoy your work.
Be prepared for a greater workload: Start-up companies do not have support systems and you often need to deliver the same amount, but with less resources.
Assess your expertise: How can you use your expertise in a start-up and what do you want to learn?
Research before you start: Thoroughly assess key persons (not just the technology) you are going to work with. The chemistry has to be right.