NHH has Norway's best master's degree according to FT ranking
The master's degree programme at NHH is the best in Norway and ranks as number 70 in the world, according to a new ranking. Master's degree student Lisa Naustdal, who has specialised in finance, has already secured a job at McKinsey.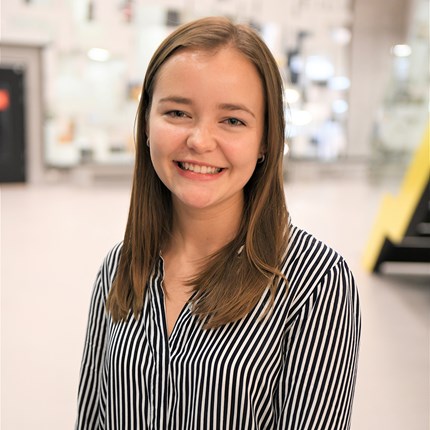 The master's degree programme at NHH is among the best in the world and the best in Norway. The school climbs two places from the year before and is now ranked as number 70, according to a new ranking by The Financial Times, which ranks the world's 100 best master's degrees in economics and business administration.
The NNH master's programme has always been ranked as the best in Norway, also in 2019.
Greater ambitions
The rector at NHH, Øystein Thøgersen, is very happy with the institution's international position, but emphasises that his ambition stretches far beyond the national borders.
'In its ranking, FT lists 100 of the world's most prestigious educational institutions, and to rank as number 70 and climb two places from last year are sound achievements. However, I want the school even higher on the list,' says Thøgersen.
NHH has been included in the prestigious ranking since 2005, and has made determined efforts over several years to strengthen the quality of the MSC in Economics and Business Administration. The NHH's international CEMS programme came in at number eight this year, which is up one position from last year.
98.8 per cent have a relevant job
The majority of NHH students have found a job before they graduate. The candidate survey carried out by Sammen Råd og Karriere in 2018 shows that 98.8 per cent have a relevant job two years after completing their degree.
Master's degree student Lisa Naustdal is part of these statistics. She will complete her master's degree in spring in 2020, but has already secured a job as Junior Associate with McKinsey in Oslo. She will be part of a team of consultants and work with a broad range of sectors.
'I believe that my time at NHH has been decisive for securing this role. The master's degree at NHH has given me broad knowledge of the field, and I have learned a lot from working with other competent students and practical experience from my involvement in the student association,' says the 23-year-old.
The consulting company McKinsey – soon to be Naustdal's new employer – is among the most attractive employers for Norwegian economics students. In the Karrierebarometeret survey from May 2019, the company came fifth on the list of preferred employers.
Partner Elin Sandnes at McKinsey says that the consulting company looks for the best candidates across programme options, focusing on their drive and ability to solve problems.
'NHH candidates are attractive to us because they have often achieved sound academic results and demonstrate drive, for instance through experience from student offices,' says Sandnes.
Started a female stock exchange club
The student from Trondheim has specialised in finance as part of her master's degree. Naustdal says that she discovered during the bachelor's degree programme that she had a special interest in numbers and the analytical subjects. She is also the head and driving force behind Femme Forvaltning at NHH, a female stock exchange club that aims to get more women to choose finance.
'I found finance subjects particularly exciting, and it felt natural to choose a finance specialisation. I also chose finance because it provides many opportunities after the degree, both in and outside of the finance industry,' she says.
Naustdal is now writing a master's thesis about fundraising for start-up companies. The student is certain that the knowledge she has acquired will prove valuable to her future career, and is looking forward to use what she has learned in practice.
'The most important thing I take from the master's degree programme into my new job is experience of team work, a fundamental understanding of finance and an analytical approach,' says the future business graduate.