Almost 30,000 students have chosen Bergen as their place of study. More than ten per cent of the city's inhabitants are students. That does something to the city.

Many of the educational institutions in Bergen are located in the middle of or close to the city centre. The students make their mark on the city, and contribute to making Bergen a young and urban city to study in.
Get involved during your studies
Bergen has a very active cultural scene and night life, and a string of voluntary organisations you can join.
In addition to the student organisations at the different institutions, there are also organisations covering all of Bergen's students. The largest of these are the student cultural centre Det akademiske kvarter (Kvarteret) and the student sports organisation Studentidrettslaget BSI. Kvarteret houses concert venues, a cinema, a café, rehearsal premises and a pub, and is run by students on a voluntary basis. The BSI has over two thousand members and offers a wide range of sports – everything from football to handball, to quidditch and underwater rugby.
Read more and see a calendar on studentbergen.com (external link)

A large number of concerts and festivals are also organised in Bergen, such as the annual music festival Bergenfest and the film festival Biff. The city also houses well-known cultural institutions such as the theatre Den Nationale Scene, Bergen Philharmonic Orchestra and KODE art museums and composer homes.
Getting around
Although Bergen is the second largest city in Norway, you will discover that everything in the city centre is within easy walking distance: concert venues, parks, pubs and cafés, art exhibitions and museums.
NHH is centrally located, only a few minutes by bus from the city centre, and the well-developed public transport system will ensure that you can make the most out of your student years in Bergen.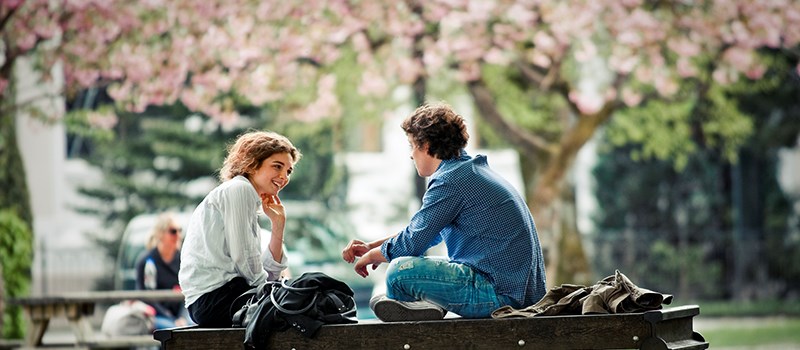 Between the sea and the mountains
Bergen is surrounded by nature. The Seven Mountains of Bergen are never far away, and in a few minutes, you can swap the library and your books with fresh mountain air and a spectacular view.
If you enjoy skiing and extreme sports, head to Voss, located only 1.5 hours from the city. Some of the country's most amazing places for diving and climbing are also found in the areas around Bergen.

Welcome to NHH
Ready to explore student life in Bergen?