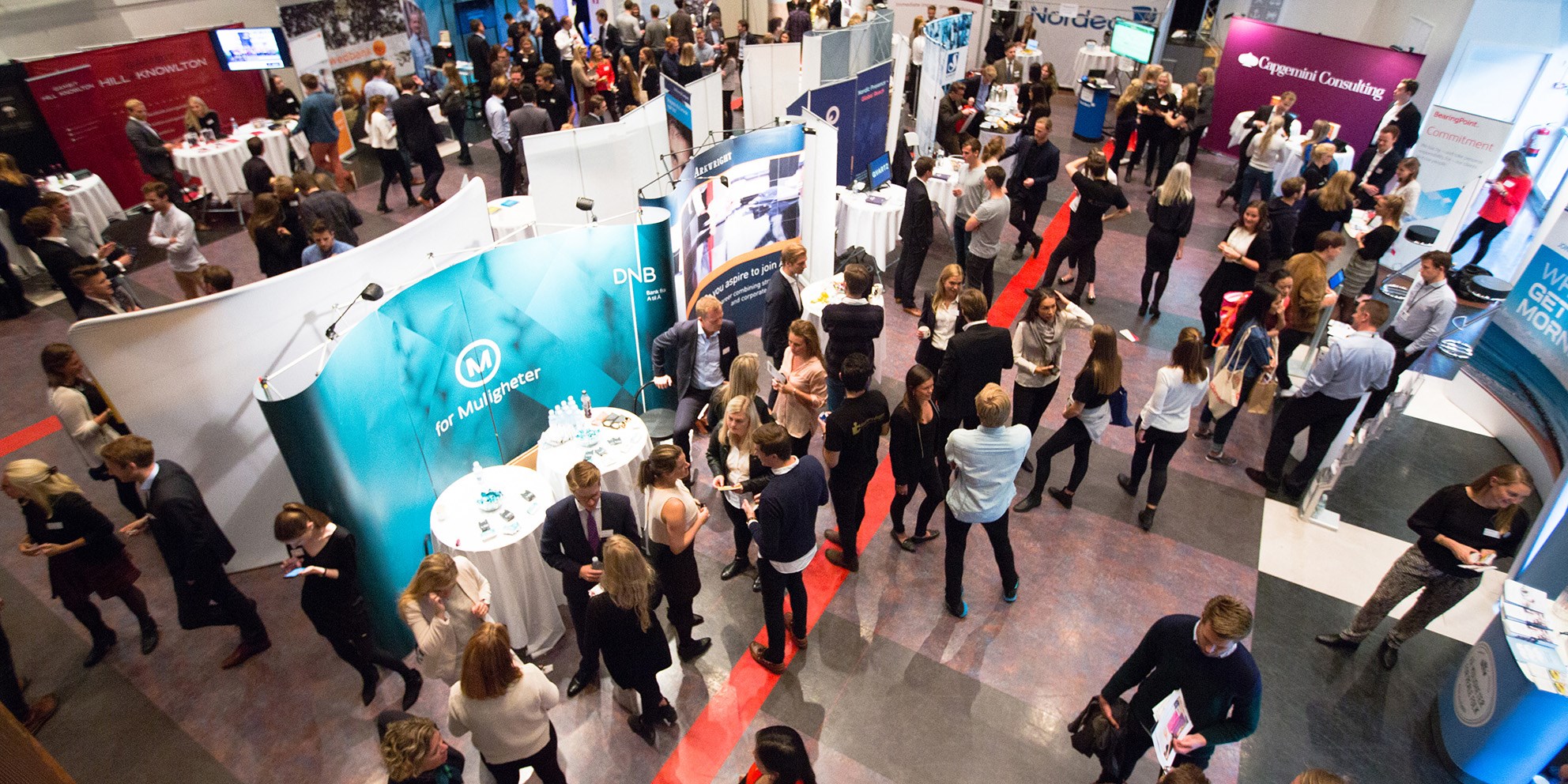 Queuing up to recruit NHH students
Despite the difficult economic times, a record number of companies have registered for the Career Fair at NHH.
98 companies have registered for the event. That is the highest number registered in the last five years and eleven more than last year.
"Because of the economic situation in the market, we were a bit nervous about how many enterprises would prioritise attending this year's Career Fair. We were therefore very pleasantly surprised to note an increase in the number of participating enterprises", says Victoria Somdalen, head of the Career Fair at NHH.
The Career Fair runs over four days and will end on Thursday 15 September.
New initiatives increase interest
The Career Fair committee has taken new initiatives in order to attract more enterprises to the event. Among other things, it has invited start-up companies from all over Norway to participate.
"We have made active efforts to recruit enterprises from different industries. The labour market is changing and we need to focus more on innovation and entrepreneurship. That is something NHH's management is also working actively on", says Somdalen.
Somdalen has noticed that the state of Norway's economy also plays a role in relation to enterprises' participation in the Career Fair, but recruitment seems to be an area that companies nonetheless give priority too.
"A wide range of enterprises attend the event. The biggest challenges we have encountered are in recruiting companies from the oil and gas sector. Companies from this industry will nevertheless be taking part this year as well", she says.
Facts about the Career Fair at NHH
Held for the first time on 2 October 1997 by the Student Union's Business Committee at NHH. This year's event will therefore be the 20th time the Career Fair has been held.
This year, it consists of three course days from 12– 14 September, with 14 courses in all, followed by Career Day on 15 September.
The point of the Career Fair is to create relations and contact between potential employers and employees at the Norwegian School of Economics (NHH).
Entrepreneurs Corner is a new feature at this year's Career Day, with stands hosted by start-up companies. In addition, Career Day will also include a separate International Arena featuring international companies.