The Bronze Sponge to Jan Ubøe
Professor Jan Ubøe is this semester's winner of the Bronze Sponge, the NHH bachelor's students' teaching award. He receives the award for his efforts in the course MAT011.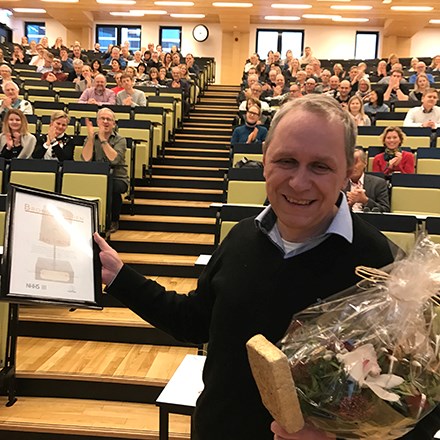 The Bronze Sponge was first handed out in 1972 to share an appreciation for lecturers that in the students' eyes have made an extraordinary effort at teaching in bachelor courses.
The Prize Committee's statement
"In this semester we are pleased to award Jan Ubøe the prize for the course MAT11, Differens- and differensiallikninger, for his dedication to his students and well-prepared lectures.
The recipient of this semesters Bronze Sponge does something that very few others can, namely making a course, which previously had a name consisting of 73 letters to bring the message out, transparent. With his brilliant communication skills and sense of humor, he has managed to get one hundred students to take the course.
To quote a student, "Jan is a very talented and engaging lecturer. Through his vast knowledge of the subject and good understanding of the students, he makes the course a pleasure to follow week after week".
Such statements about an analytic subject such as MAT11 should act as proof of Ubøe's achievement.
It can be argued that innovation is challenging in a methodological course of this type. The Committee, however, points out that Jan's educational approach and the general structure of the course has been presented solidly and tailored to get each student through an otherwise demanding course.
Ubøe is described in the nominations with a plethora of praise, and they repeatedly state that he has created an interest among the students that they did not necessarily expect that the course would result in."
In addition to award winner Ubøe, Professors Liam Brunt for the course SAM12 and Victor Norman for his course SAM030, received honourable mention from the Bronze Sponge committee.