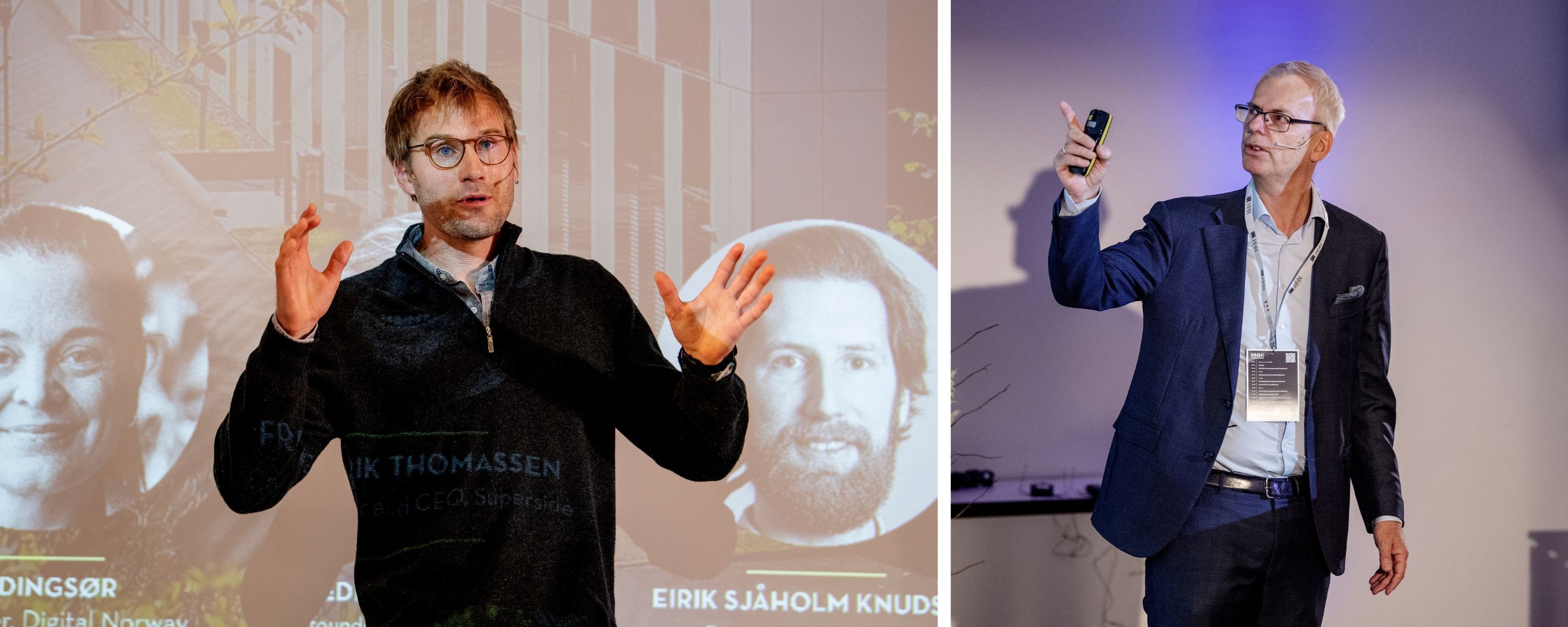 At the cabin when the news struck
NHH alumnus Fredrik Thomassen manages 700 employees in the Silicon Valley company Superside. When he visited NHH, he talked about what happened when their bank First Republic Bank collapsed.
'The bank said, "Calm down. It will be all right." That's the worst thing they could say! I knew there was a 50 per cent chance of the bank collapsing.'
Fredrik Thomassen said this from the stage at NHH's Spring Conference, one of Bergen's most important business conferences. Thomassen is a former NHH student and is now CEO of the design company Superside.
In just a short period, the company has acquired big customers such as Google, Amazon, Booking.com and Cisco. In total, they have over 450 customers on their books.
THE BANK COLLAPSED
At the time that Thomassen became concerned that the First Republic Bank would collapse, Superside had about NOK 500 million in the bank. At that point, he was on a cabin trip with his family. Thomassen, who's from southern Norway, had done something that he normally never does: He left his PC at home.
'I made a lot of phone calls from the cabin and managed to get hold of a lady in New York who worked at our bank. Through her, I was able to buy government bonds for everything we had deposited.'
Fortunately, it turned out alright for Superside and Thomassen. Even though it was a terribly stressful situation to be in as a manager, in retrospect he sees it as a (slightly) positive experience.
'It was in any case fun to be part of it, even though it was crazy at the time.'
'BRING BACK THAT ENTREPRENEURIAL SPIRIT'
At the Spring Conference, Thomassen was in the same session as Liv Dingsør, CEO of Digital Norway, and Eirik Sjåholm Knudsen, associate professor at NHH. Thomassen was asked why he chose to invest in the United States and not in his home country.
'It's terribly scary to start a business, but it's a little less scary in the United States, and there are many reasons for that. In the United States, there's a sense of optimism about entrepreneurs that is lacking in Norway. Here, we take the safe route – we need to being back that entrepreneurial spirit!'
'I SEE OBSTACLES AHEAD'
'Poor visibility and storms on the horizon. How do you prepare for the unpredictable?' This was the topic of this year's Spring Conference. Rector Øystein Thøgersen opened the conference by speaking about macroeconomic uncertainty.
'We frighten ourselves all the time. We came out of the pandemic with more speed than anyone could ever imagine. Things looked amazing for a while, but then came what some people believed to be a new black swan: the war in Ukraine. It was not actually a black swan, just as the financial crisis was not: there were plenty of experts who predicted that it was bound to happen,' Thøgersen said.
The Rector at NHH also raised questions about how well the economic policy is working:
'What we are going to live on tomorrow? It worries me. The state is trying to pick winners, and that's a dangerous way to go. Proper incentives need to be put in place, and not just given to those who pull in the money. I see obstacles ahead, but currently remain moderately optimistic.'