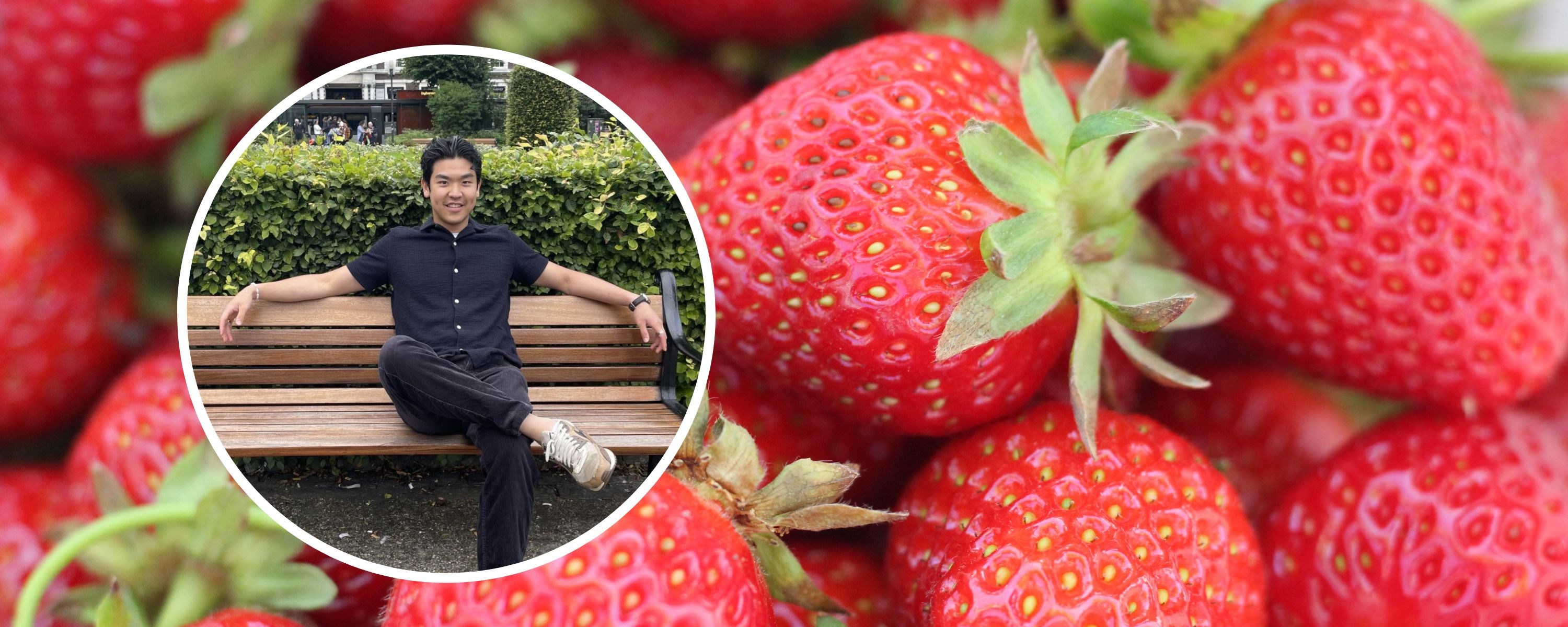 Started restaurant at age 18 – now strawberry entrepreneur
NHH student Erik Tien Huynh (22) talked to about 50 farmers to gain access to land. Now he has 15 employees and expects an excellent summer season. 'The goal is to sell several tonnes of berries.'
Erik Tien Huynh (22) from Larvik has just finished his second year at the Norwegian School of Economics. This semester he has been on an exchange to Cincinnati University in Ohio, in USA. Now that the summer holidays are about to start, he is fully committed to his strawberry company Eriks jordbær' ('Erik's strawberries').
'I love it! It's incredibly fun to start your own company, but it can also be very stressful. Some days I'm very happy, while other days I think, "Do we have to close down?"'
AMONG THE TOWN'S MOST POPULAR RESTAURANTS
Let's go back to the beginning: It all started with a restaurant in Larvik, which at one time was among Porsgrunn's most popular restaurants. Huynh was only 18 years old when he started the restaurant Sweet & Sour Takeaway.
'It was crazy that at the age of 18, I interviewed people in their 50s who wanted to work for me. The restaurant became really popular, and at most we had seven employees.'
The plan was to open one more restaurant, but the coronavirus pandemic put a stop to that in 2020.
'I learned a lot, and that's how my interest in entrepreneurship really took off.'
Until then, Huynh's plan had always been to study law, but now, he shifted his focus to NHH.
'My family was very surprised, but for me it felt right.'
Went from farm to farm
When the restaurant went bankrupt, Huynh used all the money he had earned to start his own strawberry company. His interest in berries — and especially strawberries — started when, at the age of thirteen, he had a summer job picking berries. And that's how the business idea emerged.
'I love strawberries and saw a potential there. We have so much land in this country, and I knew that farmers often struggle to utilise all their fields.'
In order to gain access to land, Huynh went from farm to farm and spoke to about 50 farmers. Now he rents fields in Kvelde and Tjølling in Vestfold (corresponding to about 12.5 acres) and has 15 employees. Most of them work as pickers.
Sells to smaller grocery stores
The farmers whose land he hires gave him the training he needed to get started.
'It's going really well. We have seven stalls and also sell to smaller grocery stores. I expect us to sell several tonnes of berries this summer.'
His customer group is mostly based in Vestfold, the NHH student tells us. To Huynh, one of the best things about the job is that he can help others improve their lives.
'Many of our employees are from Vietnam, and they got their first job in Norway through my company. They say that this income allows them to now buy a house and settle down. I think that's really great.'
'Important to understand accounting'
Huynh thinks NHH is a good place to be for entrepreneurs. He points out that going to NHH has allowed him to attend many relevant conferences (such as Discovery Days in Barcelona) and that NHH has many relevant courses for aspiring entrepreneurs, So far, he has especially benefited from the courses 'project management', 'financial accounting' and 'legal studies for economists'.
'To take one example: I think it's important that, as an entrepreneur, you understand accounting or know how to set up annual accounts. Then you don't have to blindly trust your accountant.'
He is also active in the student group Start NHH, an interest group that promotes innovation and entrepreneurship among NHH students and in Bergen in general.
Influencer of the year
Since October, the 22-year-old has managed NHH's channels on Snapchat and TikTok together with fellow student Anna Stina Bjørlo Stafsnes. There, they provide potential applicants with an insight into student life and make sure that important information reaches the students. His motivation is to convey a message:
'I want the current and future students to feel the same as me; that NHH is a place of unity and belonging. It's easy to get overwhelmed as a new student or feel stressed before an exam, and I want to show them that they're not alone. We all have the same feelings. At the same time, I want to show off the school and all the fun things that happen here,' he says, and adds:
'I'm very proud to be going here and want others to have that feeling as well.'
Huynh also has his own channel named 'Gründer Norge' ('Entrepreneur Norway'). There he shares tips and trips and highlights the fun things about being an entrepreneur. The channel can be found on most social media.
His joy of communication has not gone unnoticed. Recently, he was named 'influencer of the year' at the entrepreneurial conference Emax 2022, hosted by Innovation Norway.
'Extremely exciting'
Huynh still has several years left of his education, but his dream is to continue to live the life of an entrepreneur.
'I'm keeping my options open, but right now it's extremely exciting and rewarding to start companies.'
He is not intimidated by his previous bankruptcy:
'I learned a lot when it happened to me. For every new company I start, I almost feel like a new person. There's a lot of shame attached to bankruptcy, but we should actually praise people who have failed. It shows that you tried and that you went all in,' he says, and adds:
'How bad can it really go? We live in Norway. Things can't get that bad.'