Total of 160 female students attend Women's Finance Day
Women make up only 28 per cent of executive management positions in banking and finance, according to a report from the Finance Sector Union of Norway. NHH wants to change this.
Women's Finance Day
Organised by Femme Forvaltning, the Student Association's Business Committee (NU) and Finansgruppen.
The aim is to provide female NHH students with an insight into the field of finance and the opportunities provided by a career in finance.
The main sponsors are Sparebanken Vest and ABG's Women in Finance Foundation.
Has been organised since 2019.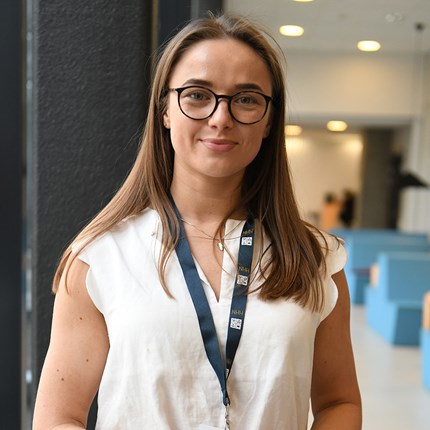 On Thursday, 13 February, a record-high number of 160 female economics students and 18 finance companies attended the student event Women's Finance Day at NHH. The event was hosted for the second year in a row.
Several high-profile representatives from the world of finance participated and gave talks, among others:
Thina Saltvedt, Chief Analyst in Sustainable Finance at Nordea
Anette Hjertø, Head of Absolute Return Investment at DNB Asset Management
Knut Brundtland, Chairman at ABG Sundal Collier
Want to inspire
The students wish to use this event to encourage more women to pursue finance, both as an education and a career.
'We want to make finance seem less scary. Many students, both women and men, probably have little knowledge of finance, and some may be prejudiced. We want to inspire female students, and show them the exciting job opportunities available in the field,' says NHH student and leader of Women's Finance Day, Brita Heradstveit Hestenes (23).
There are not enough women in management positions in finance. Only 28 per cent of women in the sector are CEOs or bank executives according to a report from the Finance Sector Union of Norway on women and finance. The report states that the sector is working on equality and how to recruit more women.
WOMEN ARE IN DEMAND
Vice Rector for Academic Affairs, Linda Nøstbakken, believes that Women's Finance Day is a unique opportunity for women to network in the finance sector.
'Finance is a large and important field, which is important for both women and men. The reason more women don't seem to go in this direction, I believe is complex – but to show that they are in demand and have a lot of options is incredibly important. Finance needs more women, and the students behind Women's Finance Day do a remarkable job in this area,' says Nøstbakken.
This year, the event has extended its programme with talks and workshops after positive feedback after last year's event.
NHH also invited 30 girls from upper secondary school who were interested in economics. They came from all over the country, and several of them were granted a travel grant to participate.