NHH most popular in the country
The Norwegian School of Economics is home to Norway's most popular study programme. This year, NHH was 2,112 applicants' first choice. They are competing for 500 places. 'This is a formidable increase from last year,' says Rector Øystein Thøgersen.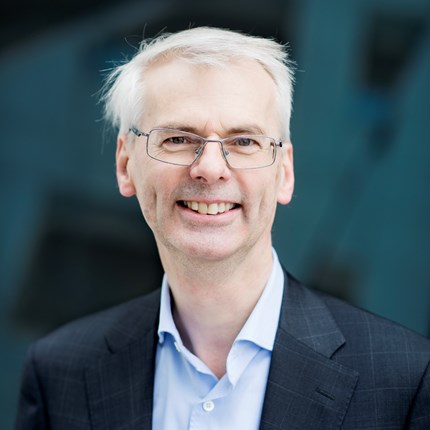 This year's uptake to the bachelor's degree programme shows that it will be hard to earn a place at the Norwegian School of Economics. There are over four applicants per place on the programme, according to figures from the Norwegian Universities and Colleges Admission Service, which were published today.
Most first-choice applicants in Norway
'The increase is formidable. NHH can always be found at the top of the applicants' lists in Norway, but this year's result is the best in many years,' says the Rector at NHH, Øystein Thøgersen.
He also emphasises that the corona pandemic creates an uncertainty that influences the individual applicant's wants and opportunities in relation to their course of education.
'It will therefore be even more exciting to see what the final uptake looks like,' says Thøgersen.
In total, over 5,000 people have NHH on their application list, an increase of more than 1,000 from last year. Of these, 2,112 applicants have chosen NHH as their preferred educational institution in their application for higher education, according to the Norwegian Universities and Colleges Admission Service. Last year, just over 1,700 applicants had NHH as their preferred choice.
'When measured by the number of first-choice applicants, the NHH programme is the most popular in the country,' says Thøgersen.
The next most popular programmes are the law programmes at the University of Bergen and the University of Oslo, respectively.
Hard to make the cut
There has been a great interest in economics and business administration this year. The field has the highest increase in percentage in the number of first-choice applicants in 2020, compared to all other study areas.
NHH recruits students from the whole country to its bachelor's programme with 500 places. Those who start on the bachelor's programme are guaranteed a place on an NHH master's degree programme.
'It's very hard to make the cut. Only students at a very high level are offered a place at NHH,' says Thøgersen.
International opportunities
Anna Sophia Olsson-Hagan is a final year pupil at Amalie Skram upper secondary school, one of the city centre schools in Bergen. She has picked NHH as her first choice.
There are several reasons Olsson-Hagan wanted to attend NHH:
'Firstly, I want to study economics and business administration. I have also been studying Chinese for almost five years, and it would therefore be ideal for me to be able to spend time in China during the study programme. International opportunities, such as exchange programmes to China, are precisely what NHH offers,' says Olsson-Hagan.
'The best city in the world!'
The eighteen-year-old from Bergen has also looked at the opportunities that arise further ahead in the study programme:
'Another option offered by NHH, which is an advantage, is a double master's degree, something I am considering. NHH also provides the best possibilities of securing a relevant job after graduating. Therefore, the natural choice was to apply for a higher education programme at NHH,' she says, and adds:
'In addition, NHH is located in the best city in the world!'
Student environment and engagement
Øystein Thøgersen believes that the applicants, such as Olsson-Hagan, are well aware of the academic opportunities, foreign exchange programmes and career options upon graduating from NHH the school offers.
However, Olsson-Hagan believes that for many applicants, the social life on campus and all the student activities are also attractive.
'I've heard many positive things about the student environment at NHH, and it has definitely played a part when deciding where I would like to study. I've also received the impression that the students enrolled at NHH are very bright and hard-working, and this is an environment I value. There are also many opportunities to engage both socially and in student politics at NHH. This gives you the opportunity to get to know other students.
If everything goes according to plan, I hope to get a place at NHH this autumn! If I do, I am looking forward to socialising with new people and taking on new challenges,' says Olsson-Hagan.
READ ALSO: