How knowledge workers should be led
On Tuesday 21 April 2020 Abdallah Wumpini Issahaka will hold a trial lecture on a prescribed topic and defend his thesis for the PhD degree at NHH.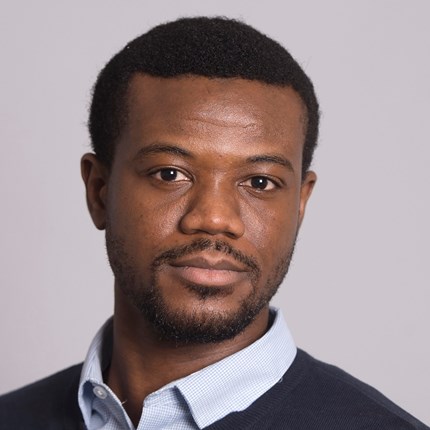 Prescribed topic for the trial lecture:
Leading knowledge workers for the future: Draw on recent leadership research and give five recommendations to leaders on how to effectively lead knowledge workers
Trial lecture
:
10:15, Zoom video conference, NHH
Title of the thesis
:
Knowledge Workers' Preferences for Leadership: Reimagining a Follower-Trait Perspective
Summary
:
The dissertation addresses the topics of how knowledge workers are different from other groups of workers and the implications of that difference on response to leadership. The aim of the thesis is to answer the research question of "how knowledge workers should be led, if at all?"
The topic of the thesis is highly relevant in a globalized world; addressing the link between knowledge workers and leadership are both interesting and important.
Organised in four separate papers, including an introductory chapter, the thesis stipulates that knowledge-intensive work demands new forms of managerial practices and leadership styles. Old forms of more direct surveillance of work or authoritative leadership styles are increasingly inefficient when employing workers who maintain the control over the cognitive and affective faculties that are the primary resources in knowledge based industries and corporations.
The thesis provides a detailed overview of the literature and tests some of the underlying propositions against empirical data on basis of well-established research methods in organizational psychology. That is, the dissertation takes a multilevel approach to knowledge workers and leadership, integrating the group level of leadership style and behaviours with individual levels of psychosocial changes and follower outcomes. It draws on educational psychology and examines dimensions of knowledge workers that have not received much attention in the literature.
By providing a comprehensive overview of the literature and by testing propositions against survey data, the thesis contributes new insights to the scholarship on leadership work in the contemporary economy and illustrates practical implications to leaders on how to effectively lead knowledge workers.
Defense:
12:15, Zoom video conference, NHH
Members of the evaluation committee:
Associate Professor Alexander Sandvik (leader of the committee), Department of Strategy and Management, NHH
Professor Gro Ladegård, Norwegian University of Life Science
Professor Alexander Styhre, Gothenburg University
Supervisors:
Professor Rune Lines (main supervisor), Department of Strategy and Management, NHH
Professor Marcus Selart, Department of Strategy and Management, NHH