NHH students are allocated their mentors
'The mentor scheme is a good initiative that NHH has rightly introduced to link students to alumni in the business community,' says Inga Øystese Hovde. This week, she met the NHH student she is going to follow up over the next half year.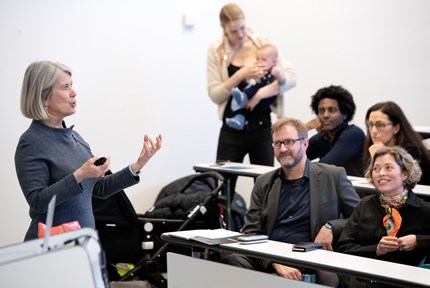 NHH started its mentor programme 2019 on Tuesday this week with 24 students and an equivalent number of mentors. The mentors are all NHH graduates but have very different professional backgrounds.
'We have strived to recruit mentors with different expertise to ensure that everyone finds a good match,' says Deputy Rector for Innovation and Development Therese E Sverdrup.
Not about recruitment
'You will all now be allocated your mentors,' said AFF consultant Elin H Mortensen, who is one of Norway's most experienced mentor experts.
Along with senior consultant from AFF Heidi Kristina Westli, Mortensen ensured that the 24 new mentors were familiar with basic mentor knowledge. They had attended lectures and practical exercises earlier that day, and are given a Mentor Master Class as part of the programme, which will enable them to develop their leadership skills. The students were also prepared for what awaited them.
'It's not about recruitment or assessment. It's about learning and development. You're going to help the students do things themselves. You are role models, and the students themselves must know what they want to gain from the relationship,' said Elin Mortensen.
Very fitting
The mentor-adept duos were announced one by one and greeted each other for the first time.

Inga Øystese Hovde, entrepreneur and partner in Salto Norway, is one of NHH's new mentors.
'I think the mentor scheme is a good arena for connecting students with experienced professionals with different business backgrounds, and I want to help NHH to succeed in this endeavour. I had a skilled mentor at the start of my career and know how useful it can be to have an engaged sparring partner,' says Hovde, who graduated from NHH with a master's degree in 2016.
Start-up
Hovde started her career as Business Development Manager at Inwido Norway AS, before she and a business partner started up the consultancy company Salto last year, which focuses on sales and market development. Her special field is strategy and business development.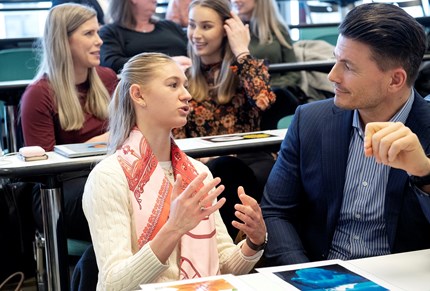 Her student, Ole Etnan from Tønsberg, is taking his third year at NHH. Etnan is pleased that he registered for the programme.
'So far, it seems really good,' he says. 'This whole concept is good.'
Dreams
Hovde is based in Bergen, while many of the other mentors have come to Bergen for the sole purpose of contributing to the NHH Mentor Programme 2019. Sverdrup praises the former NHH students.
'The response from NHH alumni has been amazing. Our alumni community is possibly the most active in the country, and our former students always give positive feedback. I think it's also worth mentioning that no one gets paid for their participation. NHH doesn't pay for travel and lodging, so they have to fix that themselves, as well as taking time off work.
Karoline Olsen from Oslo is taking the last year of her bachelor's degree at NHH. Her mentor is Jørgen Festervoll, partner in the consultancy company Wide Narrow.
'I started thinking about where I want to go from here, and not only in terms of studies and career. I'm thinking in bigger terms. I dream about how to be happy in life,' laughs Olsen, with a touch of self-irony.
'Karoline is taking her third year, which is the perfect time to think carefully about where you want to go, says Festervoll.
'What made you come to Bergen and spend a whole day on this?'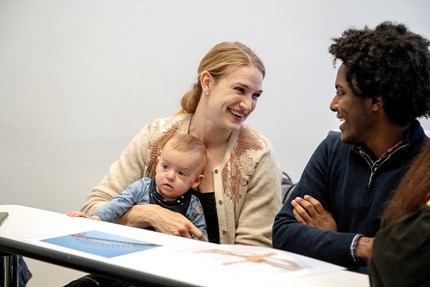 'Giving something back to NHH is fun, there's no doubt about it. And it wouldn't have happened without the alumni conference Opptur, because it's there I meet the staff and old friends from my NHH days. I also very much enjoy meeting new people and like a challenge. So this has mutual benefits,' he says.
Decisions
'I can identify with Karoline and the choices she is facing in many ways,' says Festervoll.
'But you're not going to sit around dreaming together?'
'Who says we're not going to do that?' laughs Festervoll. 'No, but this is about far more than the grades on your CV. We're interested in choosing a direction,' he says.
Deputy Rector for Innovation and Development Therese E Sverdrup agrees with Festervoll.
'The new mentor programme gives NHH students a chance to make contacts with experienced people in the business sector at the same time as evolving both personally and in terms of their careers. It's basically a gift to the students,' she says.