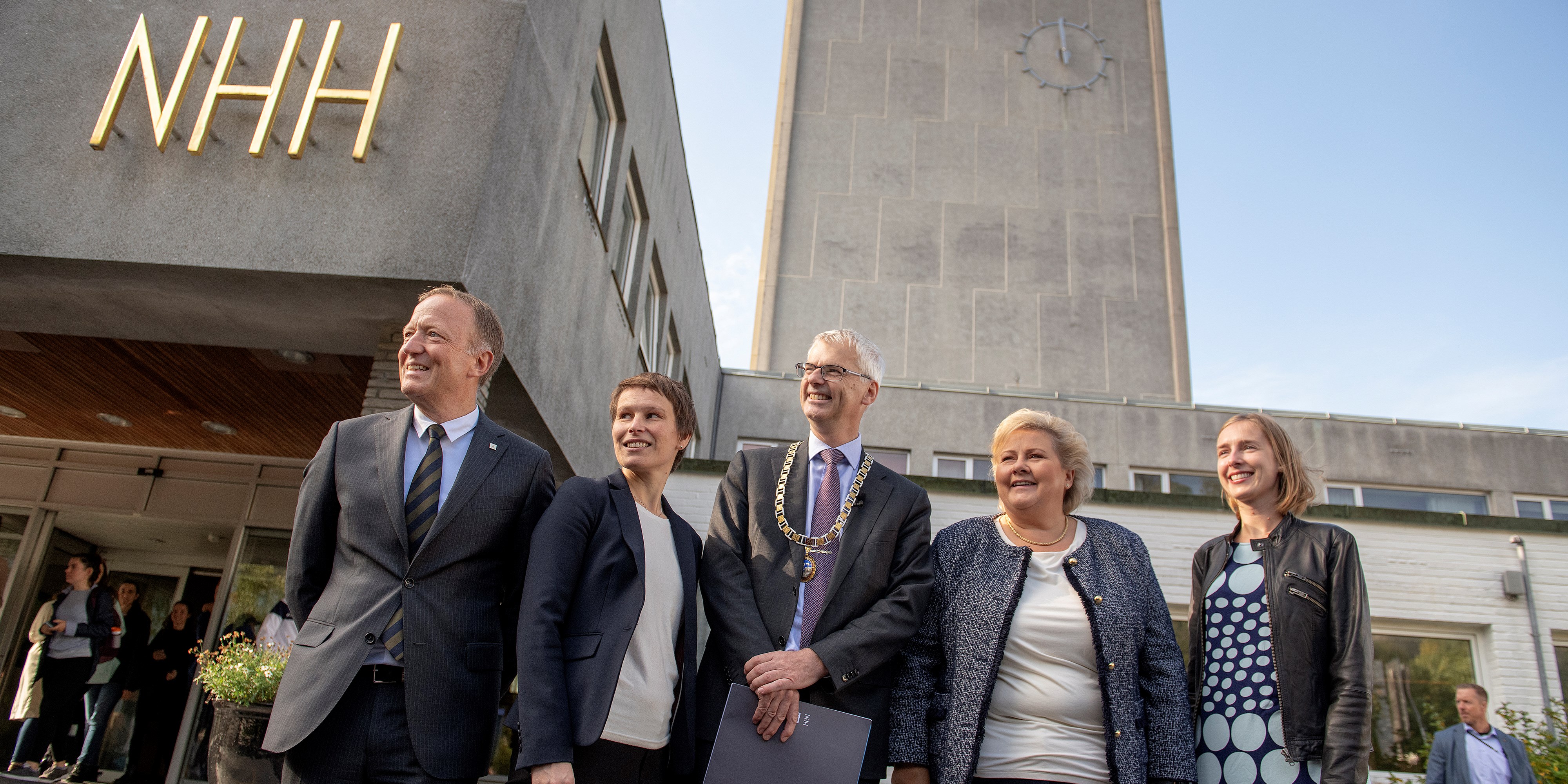 Funding secured for renovation
NHH has been given the green light for renovation of the main building complex as a 'kurantprosjekt' (a building project where the state-owned lessee is obliged to pay the rent from its own budget). This means that the funding is now in place, and that the work can begin as scheduled in 2019.
'This is an important milestone for NHH. As a business school with international ambitions, we need modern buildings and facilities that match our ambitions,' says Rector Øystein Thøgersen.
NHH moved to a new campus in Sandviken in 1963. The original buildings now need renovation and upgrading to the current standard.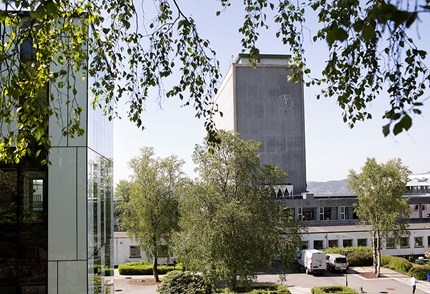 Forward-looking campus
On Tuesday, Prime Minister Erna Solberg and Minister of Research and Higher Education Iselin Nybø visited the school to share the good news that the renovation work can begin in spring 2019.
'NHH has an international recognized research environment. In order to attain and further develop its international position, facilities that promotes good research and education, are necessary. In two years, the construction will be completed, giving students and staff a greater working environment. This will enhance their wellbeing and cooperation,' says Prime Minister Solberg.
Statsbygg has been given the job of carrying out the renovation work.
'NHH is one of Norway's leading educational institutions. We are looking forward to renovating the school and thereby ensuring the best possible conditions for studies and research,' says Director General of Statsbygg Harald Nikolaisen.
The plan is that the building will be ready for use again on 1 January 2021.
Facts about the renovation
NHH's main building complex from 1963 will be renovated.
The main building complex, which comprises the high-rise building and several low-rise buildings, is at the centre of NHH's campus in Sandviken.
The project is planned to cost NOK 555 million plus NOK 3.9 million for decorative elements.
The aim of the renovation is to improve the working environment and indoor climate, reduce operating costs and improve energy efficiency. It will also lead to more efficient and flexible land use, more cooperation and better processes.
The rooms will be bigger to accommodate modern forms of teaching.
The high-rise building, the low-rise buildings and the classroom wing will all undergo renovation. Gross area: 12.527 sq. m.
Building work will start in April 2019. The plan is that the buildings will be ready for use on 1 January 2021.
'NHH wants to create a forward-looking and vibrant campus that matches our teaching and research. The renovation will contribute to the development of an outstanding learning and research environment that both students and staff will thrive in. We are certain that Statsbygg will manage the building work in a forward-looking and professional manner in line with our needs and interests,' says Rector Øystein Thøgersen.
Case auditorium
By employing new work methods and flexible office solutions, we will increase our area efficiency by 20–25 per cent. The students will get upgraded teaching premises that facilitate modern forms of teaching.
'We are converting several traditional auditoriums and classrooms into student-active learning rooms. Two of these rooms will be case auditoriums based on the Harvard model. This will give us flexibility in the choice of teaching methods,' says Øystein Thøgersen.
The project also aims to increase satisfaction with the working environment and indoor climate among both students and staff.