submissions individually and in groups
We will only send papers submitted within the deadline to grading. You will find instructions for submitting your answer paper in WISEflow here. Normally, an answer paper should be submitted as pdf.
Go to no.wiseflow.net/nhh (we recommend using Firefox or Chrome)
Log in with FEIDE (student number + password).
Open the correct flow
Upload and hand in the paper in the correct format in good time!
Handing in
We will not accept late deliveries or changes to assignments after the deadline, as this is final.
Please make sure to use a stable internet connection (e.g. Eduroam) at the time of handing in your examination answer paper.
If you have issues uploading, send an email to exams@nhh.no. All such communication must be in writing, and sent before the deadline. It is therefore important that you set aside enough time for the upload. We recommend at least 15 minutes.
Standard delivery format is PDF. In some cases attachments in other file formats may also be uploaded.
Your answer paper is not submitted until you have clicked the Hand in button. In some cases you need to add front page information for the Hand in button to be activated. When you have submitted your answer paper correctly, your screen should look like below.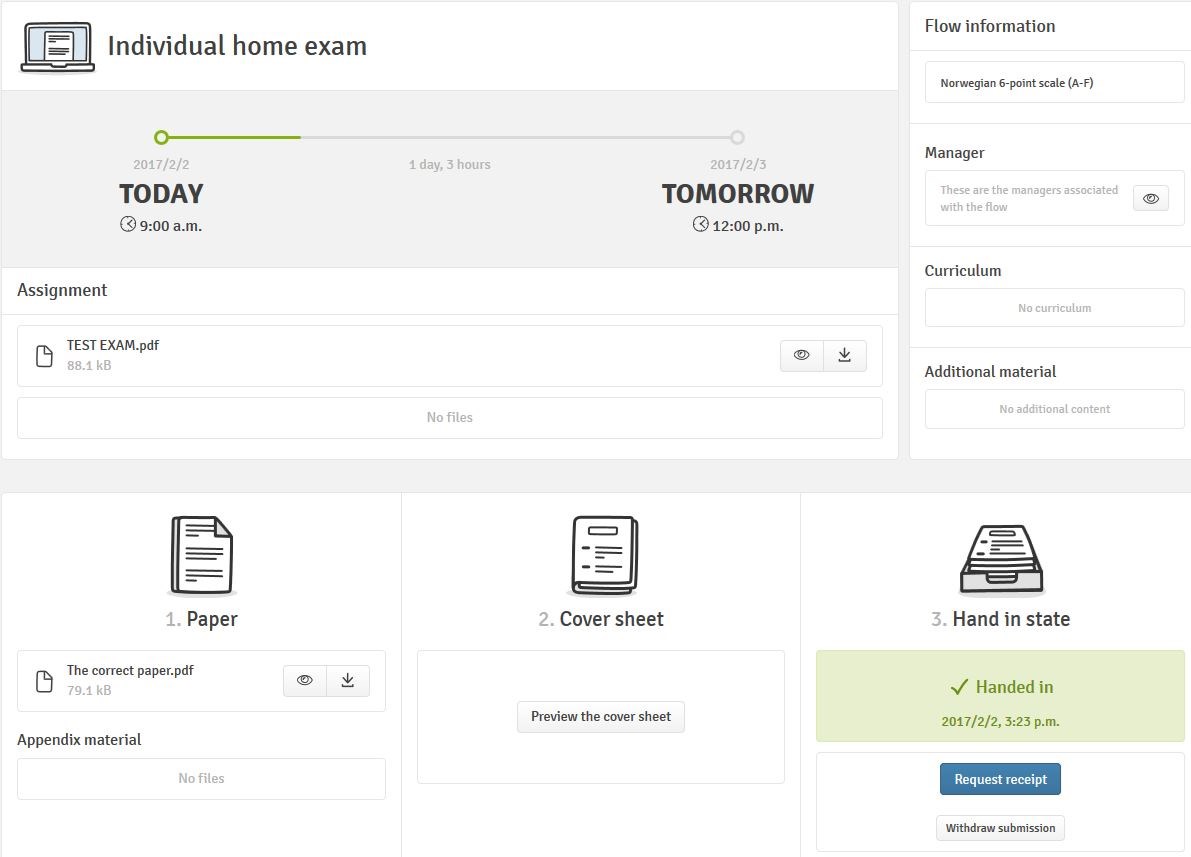 About group submissions
One group member must log into WISEflow and create a group, and also invite all members to join the group.
All members of the group must accept group membership before you may submit your answer paper.
Only one group member needs to upload and submit. Remember to fill in any necessary front page information, and click the Hand in button.
If your group decides to make use of the fact that one of your group members has been granted an extended deadline, please note the following:
All group members with a regular deadline must accept the group invitation before their deadline runs out.
Only candidates with an extended deadline will have access to uploading and handing in answer papers after the regular deadline.
When you have submitted your answer paper correctly, your screen should look like below.