Home exams and assignments
Many courses at NHH use home exams and assignments as the exam form. This page will provide you with important information about how to write and submit your exam.
The information video below contains important information about what is expected of students in terms of technical equipment, preparations on how to complete and submit your exam, and knowledge of the exam rules and regulations.
Home exams - we do not use flowlock
We do not use FLOWlock browser for home exams. This means that you will have access to all the computer's normal functionality during the exam.
Preparations
It is your responsibility as a student to make sure that you are prepared for home exams, both when it comes to technincal equipment and on how to submit exams from home. You must make sure that you have:
Access to a working computer
Stable internet connection
Knowledge on how to convert different types of files to PDF-format
Knowledge on how to upload files of different sizes in WISEflow
Knowledge on how to include pictures in your exam
Knowledge on how to submit your exam in WISEflow
We advise all students to practice all of this using the demonstration mode in WISEflow.
DEADLINE FOR SUBMISSION
We do not accept exams submitted after the deadline. If you are experiencing technical problems when submitting your exam, it is important that you do the following:
Send your exam to exams@nhh.no as an e-mail attachment before the deadline expires. NB! Links to cloud storage or similar will not be accepted. The file must be sent as an e-mail attachment or through Filesender.
If sending an e-mail to us is impossible, either from your computer or mobile phone, you can contact us by phone.
ADDITIONAL TIME FOR SUBMITTING YOUR EXAM
All students will be given 15 additional minutes for home exams where you upload and submit files in WISEflow.
The additional time are given in addition to the ordinary exam time. If an exam ends at 14:00, you will have until 14:15 to submit your exam.
The addiotional administrative time will not apply to exams where uploading and submitting files in WISEflow is unnecessary, e.g. multiple choice exams in FLOWmulti.
The deadline for submission will be visible in WISEflow for each exam.
CHEATING
NHH students are unfortunately expelled each semester because of cheating. It is not allowed to cooperate with other students or groups when writing home exams or assignments.
Cooperation between individuals or groups is not permitted on home exams, and material produced by one individual or group shall not be disclosed to other individuals or groups. Answer papers shall consist of the individual or group's own assessments and analyses.
Your exam will be analyzed in our software for text recognition and compared to previously submitted exams, master theses, sources on the web, articles and web pages.
To avoid beeing suspected for cheating it is important that you:
Reference all sources that you have used in your exam answer
Do not cooperate with others on your exam, of course with the exception of your fellow group members for group assignments.
Make sure that your exam is the result of your own, independent work.
Remember that you already have confirmed that you know what counts as cheating, and possible consequences of this, when registering for each semester in Studentweb.
Submitting your exam
Go to no.wiseflow.net/nhh (we recommend using Firefox or Chrome)
Log in with FEIDE (student number + password).
Open the correct flow
Upload and hand in the paper in the correct format in good time!
Standard delivery format is PDF. In some cases attachments in other file formats may also be uploaded.
Your answer paper is not submitted until you have clicked the Hand in button. In some cases you need to add front page information for the Hand in button to be activated. When you have submitted your answer paper correctly, your screen should look like below.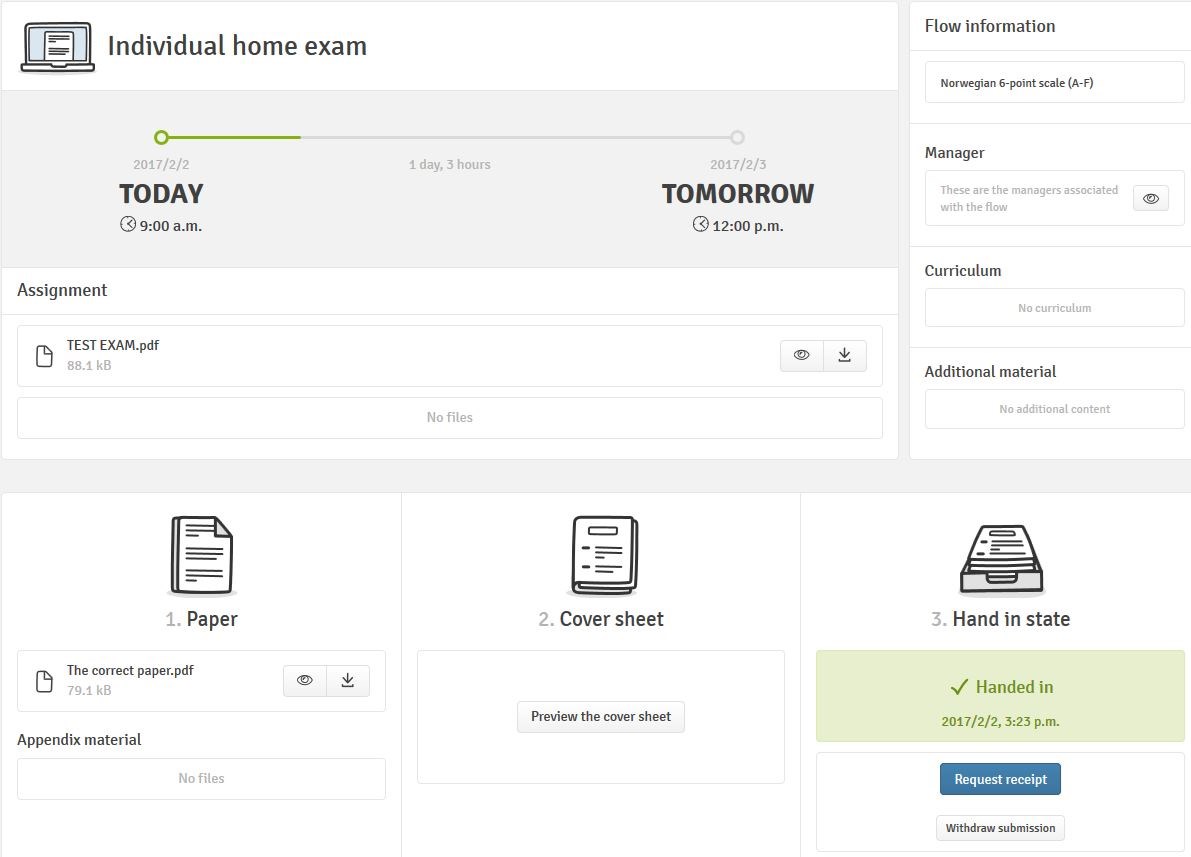 About group submissions
One group member must log into WISEflow and create a group, and also invite all members to join the group.
All members of the group must accept group membership before you may submit your answer paper.
Only one group member needs to upload and submit. Remember to fill in any necessary front page information, and click the Hand in button.
When you have submitted your answer paper correctly, your screen should look like below.