'Growing Seafood industry needs new knowledge'
'Norwegian seafood is clearly in demand,' says Trine Horne, the Norwegian Seafood Council's seafood envoy to France.
Horne was part of the first year group to take an EMBA with specialisation in Seafood Management at NHH Executive. The specialisation will supply the seafood industry and ocean-based industries with qualified employees by providing in-depth knowledge across subject areas such as economics, strategy, management, marketing, finance and accounting.
In 2016, after many years working in various positions in the seafood industry, Horne and her family packed their bags and moved to Brussels.
'Luckily, I discovered the seafood programme at NHH Executive. I applied, was offered a place, and have never looked back.'
After completing her EMBA, she ended up in France and Paris as a Norwegian seafood envoy.
'Did you get the job because you took the NHH Executive programme?'
'I had many years' experience from various roles within the Norwegian seafood industry, but I think my enhanced skillset was also seen as very favourable when I was offered the job.'
Seafood breaks all records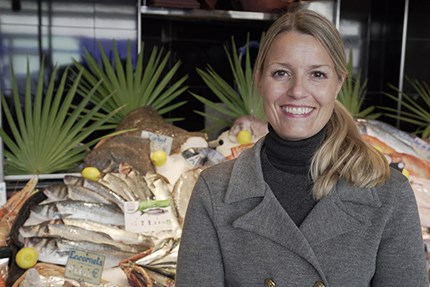 Figures from the Norwegian Seafood Council show that in the record-breaking year 2021, Norway exported 3.1 million tonnes of seafood worth NOK 120.8 billion. In the past decade, the value of exports has more than doubled from NOK 47.7 billion in 2012 to NOK 120.8 billion in 2021.
'Thorough knowledge of the Norwegian seafood industry has never been more relevant and necessary than it is now. Norway is the world's second largest exporter of seafood, and everyone benefits from a sustainable industry: Norway, the world and the environment,' she says.
'If we are to remain relevant as a seafood producer in the future, we need to understand the global markets, and we need people who can combine different fields of expertise,' Horne emphasises.
'It is a major industry of the future. Seafood is part of the solution to our future food requirements, and sustainability will be no less important for this industry in the years to come,' she says and continues:
'We need a study programme based on research and a close partnership with the ocean-based industries. NHH Executive has contributed to this with its specialisation in Seafood Management.'
A happy Christmas for Norwegian seafood
Horne and her team are presently launching a media campaign for Norwegian salmon in the French market.
'This is our big autumn campaign, which we expect to deliver excellent results. In spite of the turbulence around us with uncertain economic times, our job is always to inspire French consumers to eat more Norwegian fish.'
In the autumn of 2022, Horne will have spent three years in Paris as a seafood envoy for the Norwegian Seafood Council.
'What does your job entail?'
'We work on behalf of the entire Norwegian seafood industry,' she says, and elaborates:
'Our main responsibility is to promote Norwegian salmon and whitefish, and cod when it's in season. We work on market insight, marketing, PR and communication. In France, our work is mostly aimed at consumers, but to an extent we also work with the business-to-business market. We are also part of Team Norway and work together with both the embassy and Innovation Norway.'
Autumn has announced its arrival and Christmas will soon be upon us, something that the Norwegian seafood envoy is looking forward to. Christmas in France is also a festival for Norwegian seafood.
'The French love smoked salmon at Christmas. These are normally the months of the year with the highest salmon sales.'
'Which French variety of Norwegian salmon do you prefer?'
'It would have to be smoked salmon!'
Read more about NHH's EMBA specialisation in Seafood Management