DIG Annual Meeting 2023
The DIG Annual Meeting 2023 kicked off with a warm welcome from Director of DIG Bram Timmermans, setting the stage for a day filled with enriching presentations, reflections, and updates
Malin Arve and Geir Mikalsen, representing NHH's rectorate, shed light on NHH's strategic alignment with DIG's themes and ambitions, underscoring the pivotal role DIG partners play in NHH's engagement with the business community.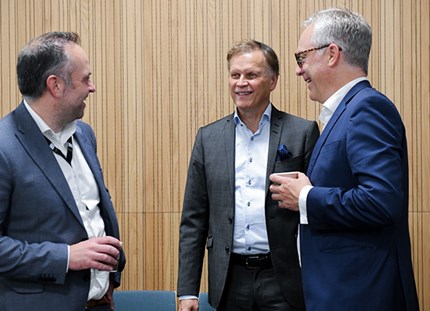 Nils-Ola Widme, Abelia, in his presentation on "Omstillingsbarometeret," unveiled Norway's adaptive capacity relative to other countries. Positioned mid-tier among 22 countries and trailing behind several Nordic counterparts, Norway's economic resilience and response to future challenges were explored.
Chair of DIG Board of Directors, Dagfinn Myhre of Telenor, shared insights from the past year, celebrating productive seminars, compelling projects, and the center's commendable momentum. Myhre paid tribute to Bram Timmermans and DIG Management Team for effort and good work.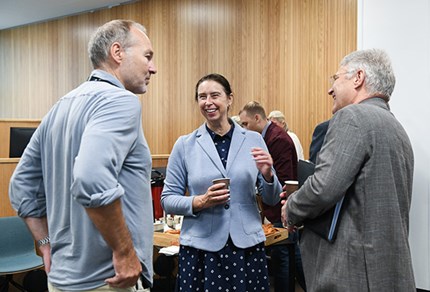 Post a well-deserved lunch break, Bram Timmermans provided a comprehensive update on DIG's ongoing and forthcoming endeavors, spotlighting recent partnerships, projects, and initiatives.
Subsequently, the focus shifted to the nexus of digital innovation and healthcare, encompassing presentations on Health Management by Synnøve Nesse, SNF, DIG e-health by Aruna Tatavarthy, and Business Models by Vidya Orugangti (DIG / NHH).
Bram Timmermans talked about DIG's ongoing projects and collaboration within the NHH family. The collaboration with SNF and NHHE was deepened by Svenn-Åge Dahl and Steinar Phil respectively.
The culmination of the day involved the election of the new board of directors for the upcoming year. Nina Christin Yttervik, Posten, Øystein Eriksen Søreide, Abelia and Mona Skaret, Skatteetaten were all reelected to the Board for 2023 - 2024. Bram acknowledged the dedication of the board members commitment to advancing DIG's goals.
With gratitude to all contributors and participants, DIG eagerly anticipates an ambitious and captivating year ahead.