A Pioneering Seminar on "The Future of Non-Competes
In our relentless pursuit of fostering digital innovation for sustainable growth, understanding the constraints and facilitators becomes paramount. Non-compete clauses, while essential in the US dialogue, have lost traction in Norway since our 2016 legislative shift. We aimed to recenter this discourse, spotlighting its potential to influence growth.
The seminar was hosted by DIG and masterfully orchestrated by Cassandra Torgnes, NHH/DIG. The day was marked by: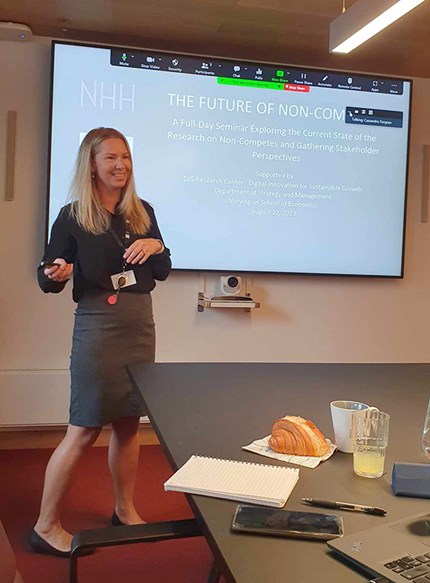 Evan Starr's, University of Maryland, incisive take on the US non-compete landscape.
Cassandra Torgnes' enlightening findings research on non-competes in Norway and issues related to cross-country research transferability.
Erika Karttinen's from Menon Economics detailed findings on changes to restrictive covenants use in Norway following the 2016 legislative changes.
Insights representing both labor union and employer association perspectives through Anniken Astrup, Econa & Eirik Hognestad, NHO.
A collaborative roundtable, seeding future conversations and potential projects.
We were fortunate to have the keen attention of Marion Stamnes from Konkurransetilsynet, bringing another pivotal dimension to the discussion. Further enrichments to the dialogue were thanks to NHH/DIG contributors like Bram Timmermans, Lasse Lien, and others.
This seminar underscores DIG's commitment to unraveling nuances that influence sustainable growth in the digital era. Here's to continued exploration, collaboration, and transformative discussions!