The norwegian innovation index goes to finland
15th November we welcomed Associate Professor Robert Ciuchita from Hanken School of Economics in Finland to NHH. Professor Ciuchita is associate with CERS Center for Relationship Marketing and Service Management at Hanken.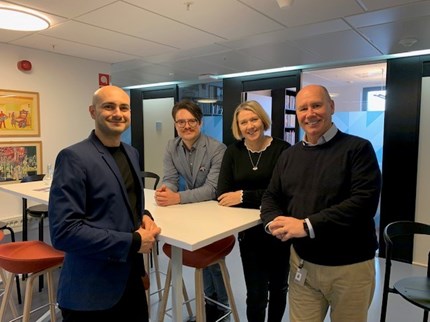 Hanken is the latest contribution to the growing Innovation Index family: Norway, Sweden, and USA. The Norwegian Innovation Index,developed by researchers associated with Center for Service Innovation specifically Prof Line Lervik Olsen, Associate Professor Seidali Kurtmollaiev, and Professor Tor W Andreassen.
Read more about The Norwegian Innovation Index
When looking for a partner in Finland, we could not find a better partner than Hanken, said Professor Tor W Andreassen. Both Hanken and NHH are small business schools with an impeccable reputation and both are members of CEMS, concludes Andreassen.
According to Chiuchita, Hanken plans to have the Finnish Innovation Index up and running in 2020 and hold their first innovation conference in early 2021. The purpose of the meeting was to discuss theoretical and methodological issues pertaining to the index including research ideas.