NHH students at OECD Forum
This week the master students Marie L. Lerøy and Lena Nord are participating at the annual OECD Global Forum on Trade in Paris.
The OECD Global Forums on Trade bring together trade policy makers, academics, industry representatives and other experts from OECD and non-OECD countries to exchange views on current trade policy issues.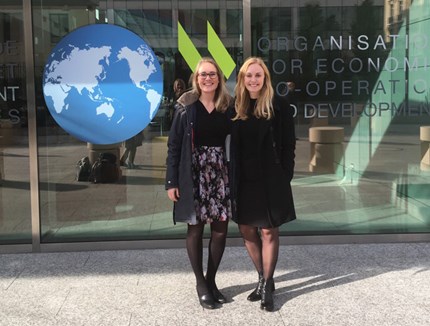 `We are in Paris primarily to present our master thesis and preliminary results, but yesterday we went to a meeting at Trade Forum as observers`, Marie L. Lerøy says
This week they also are going to visit the Norwegian OECD delegation, to learn about their work.
Hildegunn Kyvik Nordås, senior trade policy analyst at the Trade and Agriculture Directorate at the OECD, has facilitated Lerøy and Lena Nord´s visit to the Forum in Paris.
`We got useful feedback on our presentation, and we still have some time before submission to make improvements in our thesis. Right now we are going to find a café or a library and continue working`, Lerøy says.
The NHH master students have received financial support from NHH´s ethics Fund and the tax center.
Both NHH master students would like to work internationally. Nord graduates in December, Lerøy in June 2017.