New five year reaccreditation
NHH has just received the great news that the School is reaccredited for its commitment to excellence by the European Foundation for Management Development through the EQUIS accreditation.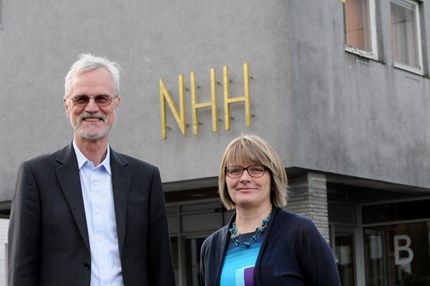 «The accreditation process provides valuable input about the scope and degree of change and innovation that has taken place in the last five years. It enables us to evaluate the School's progress against its strategic goals and the accreditation itself communicates independent verification of quality and standards», states Sunniva Whittaker, Deputy Rector.
The fundamental objective of EQUIS, or the European Quality Improvement System, is to raise the standard of management education worldwide.
Since 2001
NHH was first awarded EQUIS accreditation in 2001. The school was successfully reaccredited for a full five years in 2006 and again in June 2011. The only other Norwegian business school with EQUIS accreditation is BI Norwegian Business School.
"NHH is very pleased to be one of a relatively small number of schools to have received a full five year accreditation, four times in a row. The input from the peer review team is extremely useful in our continuous efforts to improve the quality of our School", says Rector Frøystein Gjesdal.
161 business schools worldwide in 40 different countries have been awarded EQUIS.
The EQUIS accreditation is about excellence and continuous quality improvement linked to the strategy, vision and leadership of the business schools. The accreditation is also forward looking and helps the institutions to set a quality agenda for the future.
This is EQUIS
- EQUIS assesses institutions as a whole. This includes all degree programmes from the first degree up to the PhD, as well as all activities and sub-units of the institution, including research, e-learning units, executive education provision and community outreach.
- EQUIS looks for a balance between high academic quality and the professional relevance provided by close interaction with the corporate world.
- Institutions that are accredited by EQUIS must demonstrate not only high general quality in all dimensions of their activities, but also a high degree of internationalisation.
- Institutions must be primarily devoted to management education.
Read previous article in Paraplyen (February 2016) (in Norwegian): Klart for EQUIS-besøk
Read more about EQUIS at EFMD.org