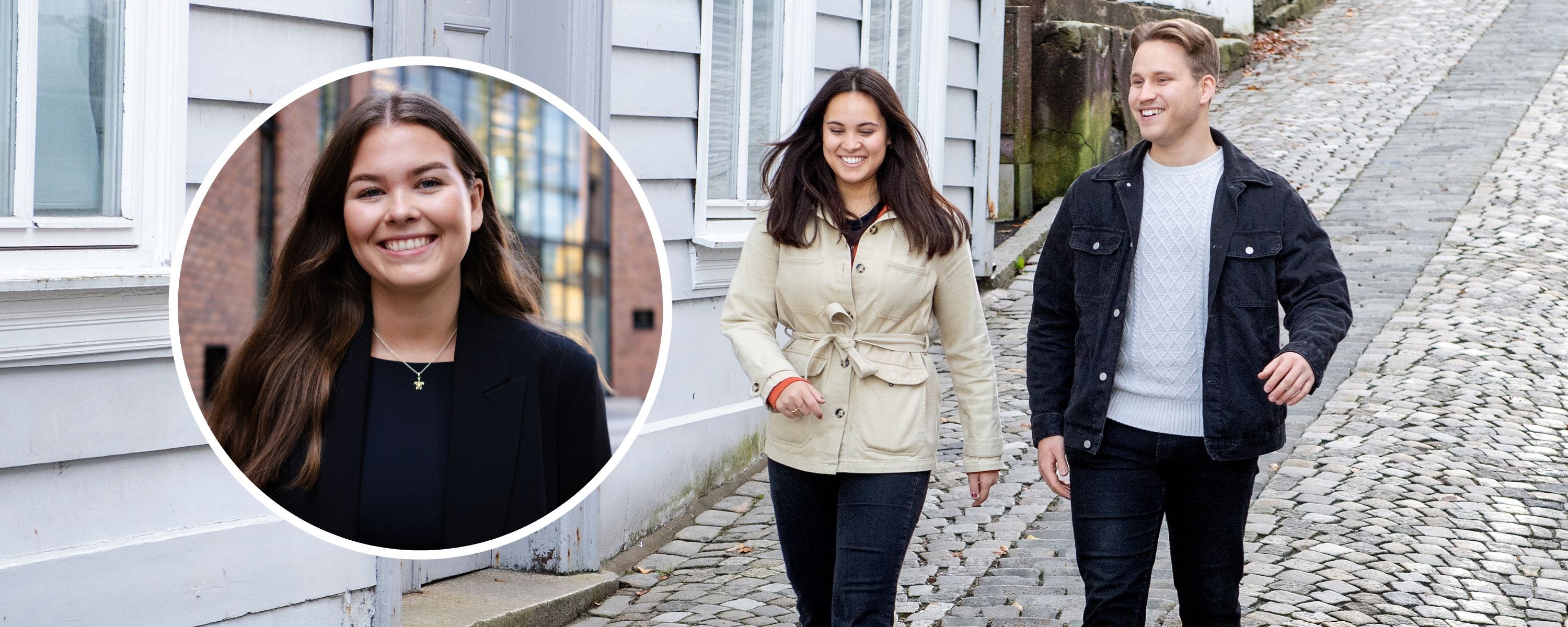 NHH GRADUATES HAVE NEVER BEEN SO IN DEMAND
Vilde Glesnes (24) completed her master's degree during the pandemic and was offered a job while she was still a student. The same is true for most of the people with whom she studied.
The results from NHH's most recent labour market survey have been released and show that NHH students are doing extremely well in the job market – even during the difficult times of the pandemic. The survey was answered by students who completed their degrees in spring 2022.
As many as 94 per cent reported getting a job while they were still a student. This is an increase from the previous year when the corresponding figure stood at 89 per cent. Moreover, the jobs offered are relevant – almost all of respondents in employment say that their job is relevant to their education.
Read the labour markeT survey 2022
Didn't notice any 'pandemic effect'
One of those who entered full-time employment last year is NHH graduate Vilde Glesnes (24) from Bergen. She now works as a consultant in Jefferson Wells Økonomi in Bergen. She received the job offer in autumn 2021.
'I didn't notice any negative "pandemic effect" when I was applying for jobs, and in fact felt that the application process was quite similar to previous years. If I have to point out one difference, it would be that several companies used digital solutions for interviews, which in my opinion actually made the process easier,' says Glesnes.
'The survey shows that 96 per cent of NHH graduates found employment in the private sector.'
'Could you have worked in the public sector?'
'There was a clear majority of private sector employers among those targeting NHH students when I was there. For me, the private sector was an attractive place to start my career. The being said, I'm lucky to have started with a company that has clients both in the public and private sectors, giving me the opportunity to gain experience with the public sector as well.'
LABOUR MARKET SURVEY
The labour market survey is NHH's annual survey. It was carried out between 15 December 2022 and 11 January 2023. A total of 274 master's students who completed their degrees in spring 2022 responded. The response rate was 42 per cent.
Six months after graduating, 93.6 per cent of graduates were in employment, 4 per cent were continuing their studies and 2 per cent were applying for jobs.
Of those in employment, 98 per cent stated that they have relevant employment.
94 per cent were offered a job while still studying.
The median income rose to NOK 667,282 in total, including fringe benefits.
Most jobs were in consultancy, auditing or banking, insurance, finance and IT.
96 per cent were working in the private sector.
Talented business graduates are always in demand
NHH Rector Øystein Thøgersen is delighted that Vilde Glesnes and the rest of the 2022 graduates are excelling in the labour market.
'Talented business graduates with up-to-date knowledge and skills are always in demand. Our graduates have the expertise the business world needs at a time when technological insight, big data analysis and sustainability are of the utmost importance,' says Thøgersen, adding:
'It is also common knowledge that our graduates are committed, ambitious and want to make a positive difference in society,' says Thøgersen.
Working in their home town
Although NHH graduates are in demand across Norway, the survey shows that most choose to settle in Oslo or Bergen. For Vilde Glesnes, who is from Bergen, the chance to stay in her home town tipped the scales.
'I wanted to stay in Bergen because of my network of friends and family. I also managed to get a job that was just what I wanted, so moving to Oslo was never on the cards.'