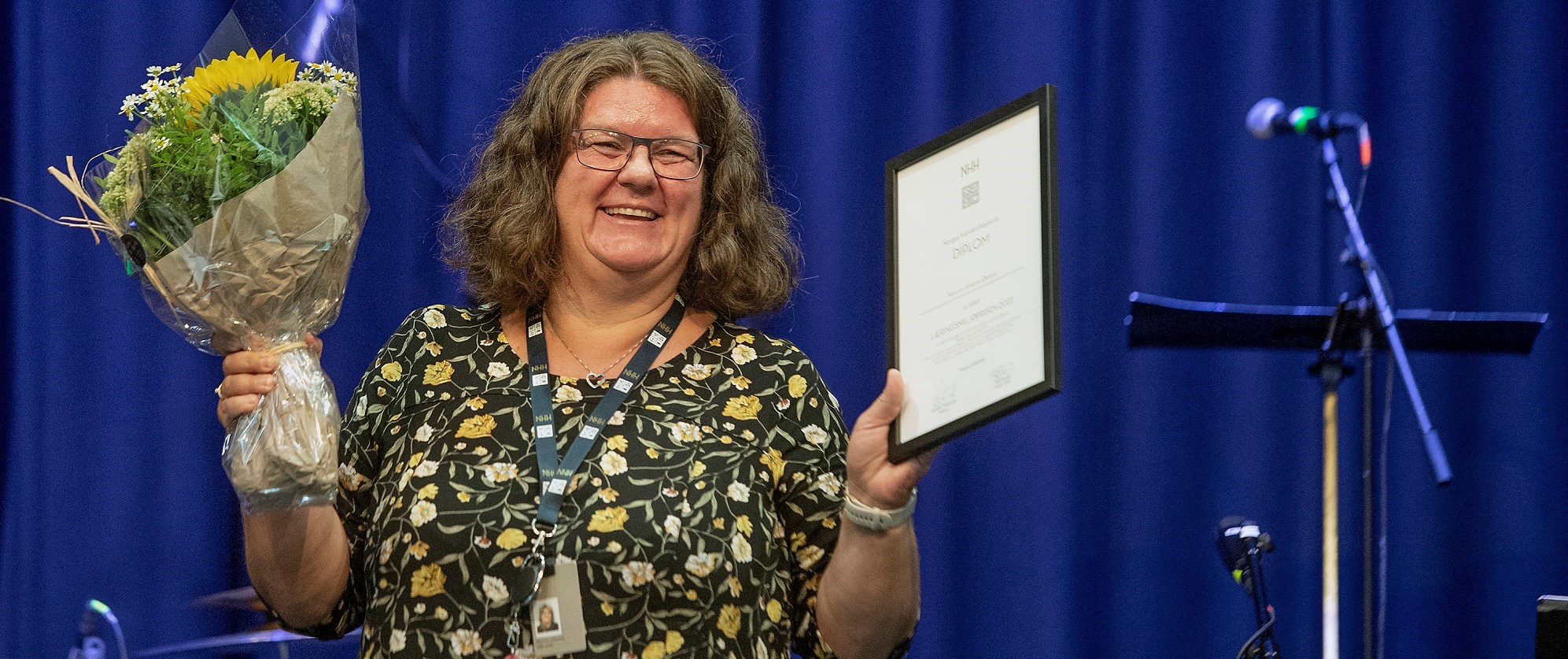 HER HEART BEATS FOR THE STUDENTS
Norunn Johanne Økland is the winner of the Learning Environment Award 2022, for her efforts and passion for the international students at NHH.
'She is passionate about the students and is the heart of NHH,' said Ingrid Heimark, deputy chair of the Learning Environment Committee, when she presented the Learning Environment Award during the matriculation for the bachelor students.
Rarely has a portrayal of an award winner been so apt. For nearly 30 years, Norunn Johanne Økland has worked with international exchange programs at NHH, and was involved when the international office was established.
'This was wonderful and unexpected. It's incredibly nice to hear that I was nominated by so many,' she says with a smile.
It wasn't just one person who nominated the higher executive officer at the Section for International Relations. Økland received the lion's share of the nominations, and was nominated by both students and staff.
THE STUDENTS ARE EVERYTHING
In the nominations, there were many words of praise for Økland. She is described as accommodating, professional and inclusive. She is passionate about NHH, but most importantly she is passionate and fights for the students.
'The award winner is the supporter everyone needs in their corner, and the day she quits at NHH will be a sad day,' said Heimark when she presented the award.
The Learning Environment Award at NHH aims to make good work visible for the learning environment at NHH. The recipient of the award must have done something beyond what one would normally expect to promote inclusion and well-being for all NHH students. Award winners are determined by the Learning Environment Committee, following nominations from students and staff.
LOVE THE JOB
'It feels very good to be appreciated and to receive recognition for a job I love,' says Økland, while holding the diploma and flowers in her hand.
Norunn is almost an institution in herself, with the large network of contacts and friendships she forms with students and staff. She cares about the students and those around her.
'I look forward to going to work every day, because I know that the work I do means a lot to the students,' says Økland, the winner of this year's Learning Environment Award at NHH.