Tiril named Corporate Finance Woman of the Year
In intense competition with female students from 14 other countries, NHH student Tiril Flørnes Støle won the title as the global "Corporate Finance Woman of the Year".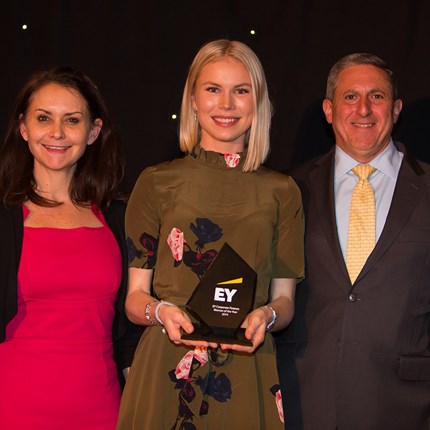 'I haven't quite managed to take it in yet,' says NHH student Tiril Flørnes Støle on the phone from London.
She has been in the English capital to compete in EY's international case competition Corporate Finance Woman of the Year. The competition seeks to find the world's most talented woman in finance.
'I have had quite intensive days. We've worked in groups of three on a case in transaction and acquisitions. We were continuously assessed by a mentor as the work progressed. She evaluated our cooperation skills, professional reasoning and performance technique, among other things,' says Støle.
WORLD'S BEST
The competition is divided into two parts; first Støle competed in the national round against ten Norwegian participants last autumn. With the Norwegian victory under her belt, the NHH student was sent to London this week to represent Norway in the international final.
After three strenuous days in competition with female economics students from 14 other countries, Støle came out victorious as the world's Corporate Finance Woman of the Year.
When you step out of your comfort zone, positive results will happen.

NHH student Tiril Flørnes Støle.
EY CORPORATE FINANCE WOMAN OF THE YEAR
The competition attracts over 1,500 applicants worldwide.

The participants solve case tasks within transaction and acquisition.

Participants first compete in a national competition. The finalists from each country then meet for an international competition.

15 countries were represented in the London final in, among them Germany, France, Belgium, Russia, USA, Singapore and Mexico.
'When I arrived at the award ceremony, I was seated at a table at the very front of the venue with EY Global Vice Chair Steve Krouskos. That made me suspect that I could be the winner.'
'I was very surprised when he read my name though. The level of all the participants was very high and many had broad experience of the specific field and of case work,' says Støle.
Støle wins a 30-day internship at different EY offices across the world. EY Global Vice Chair Steve Krouskos has no doubt that she is a deserving winner.
' Tiril is an exceptional talent and well-deserving of this year's title. She has shown all the attributes required for a successful career in corporate finance and mergers and acquisitions. Tiril has strong leadership skills, operates effectively in a high-performing team and is able to collaborate and communicate with clarity and in a compelling way,' he says.

First time SOLVING a CASE
Støle started her master's specialisation in finance this past autumn. Even though she had limited knowledge of case solving, and of the field of subject, she took the chance and registered for the competition.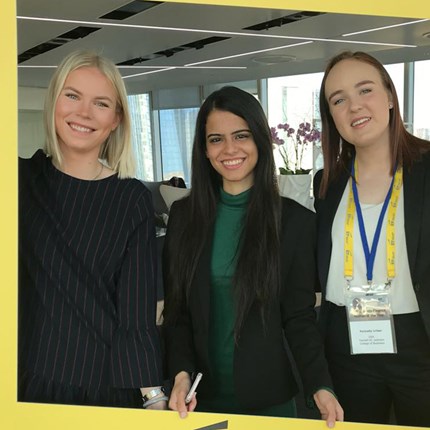 'When I registered for the national competition last autumn, I had never solved a case before. I feel that it's important to move out of your comfort zone, which we Norwegians are not good enough at doing,' she says.
Associate Professor Fransisco Santos was Støle's supervisor in connection with her master's thesis. He is impressed by her efforts.
'This is a great achievement for Tiril, and I am very impressed with her skills and courage. Hopefully, she can inspire other students and motivate them to choose finance either as a master or career direction,' he says.
Støle recommends others to challenge their own limits.
'The worst thing that could happen is that you gain good experience. I've learned a huge amount about myself and have developed my theoretical, practical and technical skills,' she concludes.