AFF supports Samarpana Calvin's education
Samarpana Calvin is taking her PhD degree in India. This year, she went abroad for the first time to study business and human rights in Bergen.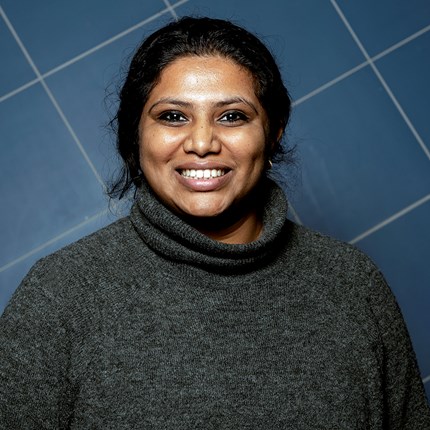 This autumn Samarpana Calvin from India has taken the continuing education course Business and Human Rights at the University of Bergen.
She was able to do this, due to financial support from AFF and the Rafto Foundation, which is a non-profit organisation dedicated to the global promotion of human rights.
Calvin is a PhD student at the Department of Social Work-HR at Madras School of Social Work in India. Her thesis is on HR practices and employee engagement towards employer brand in the leather industries in Pondicherry, India.
Met AFF at a conference
She met Gisken Holst and Hans Morten Skivik from AFF at a conference in India this summer. If was after this meeting that they decided to sponsor a part of Calvin's education.
'By facilitating for Samarpana's visit to Norway, we saw an opportunity to contribute to her competence development, but at the same time, it was a way for us to expand our own perspectives on development in a different context,' says Holst.
AFF's social mission is to invest in knowledge building within leadership and organisational development.
Father received Rafto Prize
In connection to Calvin's studies in Norway, she visited Bergen and Oslo in both September and November this year. The first trip to Norway was also her first international trip outside India.
AFF paid for the course expenses, a total sum of 19 000 NOK, and the Rafto Foundation paid for her travel expenses. In exchange, Calvin had two workshops for AFF on the caste system in India.
Calvin is daughter of V.A. Ramesh Nathan, General Secretary of the Indian organisation The National Campaign for Dalit and Human Rights (NCDHR).
Ramesh Nathan was in Bergen in 2016 and took part in the Rafto Prize 30th anniversary. NCDHR received the Rafto Prize in 2007. He was one of three who received the award on behalf of the organisation.