Cutters is taking the market by storm
'Launch a product in a market that is big enough for you to make money and where you can stand out from the established enterprises. You can thereby avoid being in direct competition,' says Cutters entrepreneur Kristian H Solheim.
This is one of several pieces of advice from previous NHH student Kristian Hauge Solheim to everyone who aspires to set up a new business. The desire to succeed and to learn along the way, combined with accepting a period of uncertainty, are important elements.
He established the hairdresser chain Cutters in 2015 along with Andreas Kamøy.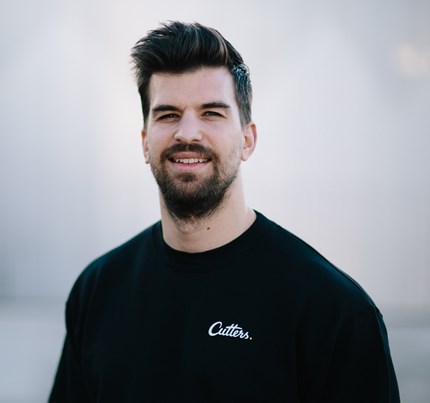 Cutters
Today, Cutters is one of the fastest growing hairdresser chains in the Nordic countries. It differs from the more traditional salon model in several areas: The salons only offer haircuts, only have drop-in appointments and as a rule, the cut should not take more than fifteen minutes. Cutters also has a fixed price of NOK 299, regardless of gender and how long your hair is.
The founders of Cutters, Solheim and Kamøy, also had a stand at NHH to test the demand:
'We made ourselves a box down in the cellar and went to different schools and various events to meet potential customers so we could see whether they liked the concept and gain input. It was here that we learned that the concept was at least as suited to women as to men. We took this input with us when we further developed the idea and eventually opened our first salon,' Solheim explains.
Clear concept
'This is an example of a business that has seen an opportunity in the market. They have then developed a clear concept that is easy to read and established a strong brand. They also use technology that compliments their concept very well. For example, you can go online and see the waiting times at the various salons. These are small details, but they have a major effect on Cutters' business model,' explains Eirik Sjåholm Knudsen.
Knudsen is Associate Professor at the Department of Strategy and Management at NHH and affiliated to the Center for Strategy, Organization and Performance (STOP).
Scalable business models
Cutters is part of the investment company Askeladden og co, run by, among others, previous NHH student Martin Schütt. Askeladden og co works on developing and scaling new business models in the Nordic product and services market.

'In the strategy field in the past few years, researchers have focused on businesses basing their activities on their resources and what they are good at,' Knudsen explains. 'This determines what they should do and who to deliver to.'
'However, what Cutters and a number of other companies in Askeladden og co are doing is to go the other way: They identify niches or segments in a market and design a business that has the most suitable qualities possible to create value in that market. Cutters is a very good example of this,' says Knudsen.
Salons for busy people?
The concept behind Cutters was initially developed for men, inspired by the Japanese hairdresser chain QB House, which offers ten-minute haircuts. QB House has salons in shopping centres, which have a high throughput of people.
When the Cutters founders were going to design a similar concept in Norway, they imagined that most women would want to spend more than fifteen minutes at the hairdressers. However, they have now seen that many women regularly get haircuts at Cutters. They still take the more complicated treatments at the traditional salons, but less often. Many of the people who use Cutters have higher education and a busy working day, in the hairdresser chain's experience.
'Many of the customers are people who are a bit short on time. Cutters offers them a more flexible way of getting a haircut. You can find hairdressers in Bergen that offer haircuts for less than NOK 299, but no others that can guarantee the same efficiency and quality,' Knudsen claims.
Competition at arm's length
Today, Cutters has 39 salons – six in Bergen, three in Kristiansand and twelve in Oslo. All of the salons are in areas with a high throughput of people, such as at Lagunen Storsenter and Oslo City shopping centres and Gardemoen airport.
Knudsen believes this could be an obstacle for new players who want to enter the field.
'Part of their strategy is to quickly reach a large scale. This makes it difficult for new players to follow in their tracks. Anyone who wants to enter the market now would need to be on the same scale and have a brand as strong as Cutters'. This would mean high costs. Then there's the question of how big this market really is. Is there actually room for a new player in this segment?' the NHH researcher asks.
Knudsen explains that it is difficult to judge how big the market is and that it rests among other things on the degree to which Cutters has stolen customers from the established salons. Have they actually increased demand in that the customers in fact get haircuts more often?
Solheim confirms that they see a clear tendency that customers get haircuts more often after they started to use Cutters.
Establishment barrier for others
It is not only the clear-cut concept and the advantageous locations that keep the competition at arm's length.

'It is also more difficult for the established players to enter Cutters' market, because they have built up the business in an entirely different way. This includes how the hairdressers are trained, what services they offer and, not least, the investments in equipment and premises,' explains Knudsen.
Cutters do not offer washes and can therefore manage with much smaller salons.
'A financially strong player who believes that there is good money to be made, however, could try their hand at the exact same formula as Cutters. It is openly available and not very difficult to understand,' Knudsen adds.
Learn from Cutters
Knudsen points out that the people behind Cutters have understood the importance of seeing new possibilities and then going all in. He also emphasises how they have communicated a very strong brand and, in this way, made it easy for the customers to understand the concept. They have also been very skilled at making adjustments along the way and have adjusted to the market in this way.
'They have had a very open attitude, particularly in relation to the fact that they went from a business model based on a men's salon to also offering haircuts to women.'
The previous NHH students' advice to anyone with a sense of entrepreneurship is to test the product to see whether it is something the customers actually want, before spending lots of time and money on launching something nobody wants to buy. And last, but not least, Solheim adds:
'Surround yourself with skilled people, and preferably people who are better than you and who have already succeeded.'