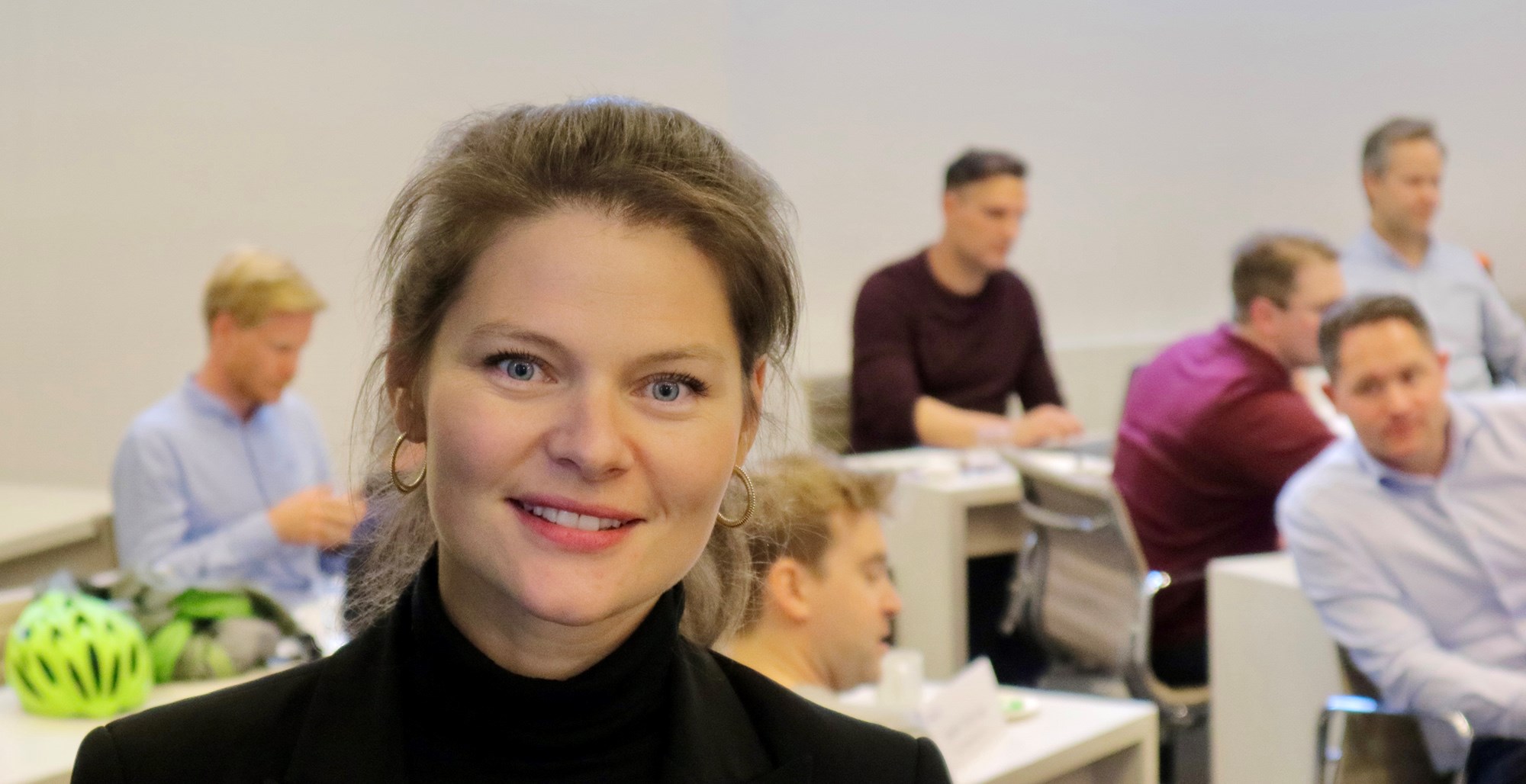 "We need new knowledge and innovation"
Linn Theres R. Nekkøy is determined to contribute to the growth of the seafood industry in a sustainable manner, focusing heavily on sparking good innovation processes for the challenges in the seafood industry.
"We need to find good solutions to the challenges in the seafood industry and use innovation for growth. What's great about the NHHE's Seafood program is that it gives new perspectives on different challenges and makes us think in different ways on how to approach these" says Linn Theres R. Nekkøy, Sales and Development Manager at Norwell in Florø.
She is well underway in the first semester of the Executive MBA with a specialisation in Seafood Management at NHH Executive.
"For me, this is a very relevant further education with significant topics. What is great about it is that all we learn in the classroom is something one can bring back into your company and use the next day. We are a diverse bunch on the course, and there are always many good perspective and ideas."
Close to producers and the market
Norwell is a medium-sized exporter of Norwegian Salmon and Trout, established in 1996 with headquarters in Florø in Western Norway. Fish farmers own approx. seventy per cent of the company.
"We are 15 employees in the office. In addition, we have offices in Bergen, Denmark, England, and Malaysia", says Nekkøy. «We act as a link between fish farmers and their market, and vice versa. The employees have extensive market insight and a wealth of experience and expertise in salmon production and export," Nekkøy explains.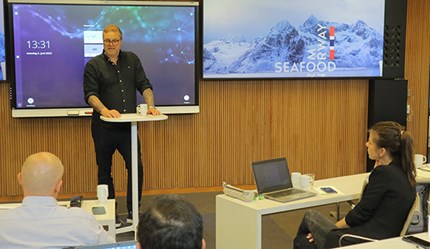 Challenges
Nekkøy believes the seafood industry must solve several challenges in the coming years to secure growth.
"One of the toughest challenges we must try to solve is probably sea lice. This is also about sustainability. We have a lot of new technology trying to provide aid for the problem, so the industry meets the regulations, but some of it also affects animal welfare, so the most important thing is to find solutions before it becomes an issue. If that is taken care of mortality will be reduced and the production of seafood will become even more sustainable. This is important to the Farmers and also markets and consumers," she says.
The key to solving problems lies in increased knowledge about the entire value chain and how to initiate good innovation processes in collaboration with those who imposes regulations, emphasizes Nekkøy.
On a different note, the seafood industry has a lot to gain from using existing and new technology.
"The latest year there has been significant development of new technology and systems; the challenge might be to use these in the daily work life of each and every company. We need good tools to solve challenges, but we also need to learn how to use them and gain the most of them. Therefore, it is inspiring and instructive to participate in the NHH classes. Here I get theory and get new perspectives on how to approach different issues."
She praises the academic program:
"The composition of program is superb. There is always something in the program that hits something. We use specific cases from the industry, and we always get a good discussion out of it. Whether it's sustainability, marketing, innovation, or leadership - everything gives new perspectives on our industry," she says.
Nekkøy also highlights the international environment in the seafood program:
"My fellow students are fantastic. Knowledgeable with their own unique experiences from different parts of the industry and the world. I firmly believe in exchanging information with others with a different background than I have, because we have different perspectives on what solutions are best for the seafood industry in the coming years," she says.
A vibrant and crucial industry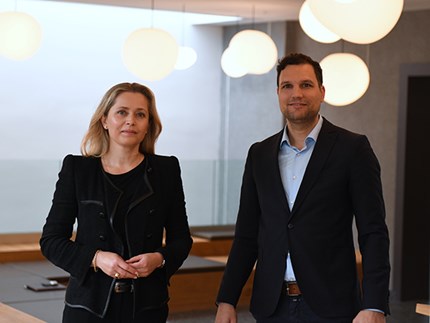 Steffen Juranek heads the Executive MBA with a specialisation in Seafood Management. He believes he understands why the course is gaining popularity and how it's shaping leaders to confront the industry's future challenges.
"One of our biggest advantages is our proximity to the industry," he says.
"Our location allows us to provide insightful guest lectures and arrange enlightening site visits. It underlines the relevance of what we're teaching. These factors are key reasons studying here in Western Norway offers significant benefits."
NHHE's Seafood program students are uniquely positioned to lead this vibrant and crucial industry into a sustainable and prosperous future. As the world becomes increasingly aware of the need for sustainable food sources, leaders equipped with the skills and knowledge from this program will be at the forefront of this vital global industry.
"NHH developed the Executive MBA with a specialisation in Seafood Management in response to a request from the seafood industry through the NCE Seafood Innovation Cluster. The program is tailor-made to tackle the seafood industry's challenges in developing sustainable, innovative businesses for future growth," says Kristin Stave, Head of Custom Programs at NHH Executive.
Allocate time
Nekkøy thrives in her job.
"Yes, it's largely about variation. It's an enjoyable industry to work in because no two days are the same. Mainly it is all about being available for the customers, close to the markets, and locating opportunities" she says and adds:
"I also work on some development projects, including optimalisation of workflows and have implemented some new computer systems, where we try to make the processes as good as possible. When people have good, accessible tools, operations also become more efficient."
"Any tips for upcoming students in the seafood program?"
"Some discipline is useful, and you just must allocate time for the study. When it's so practically organized and so relevant to the industry, you get excellent momentum, and motivation for just that."
Read more aboru the EMBA Specialisation in Seafood Management