Prosocially motivated innovative team behaviour and the sincerity of an organisational mission
This thesis explores prosocial motivation and its relation to innovative behaviour in the context of a mission driven multinational firm and asks: To what extent does the sincerity of an organisational prosocial mission moderate the relation between team prosocial motivation and innovative team behaviour?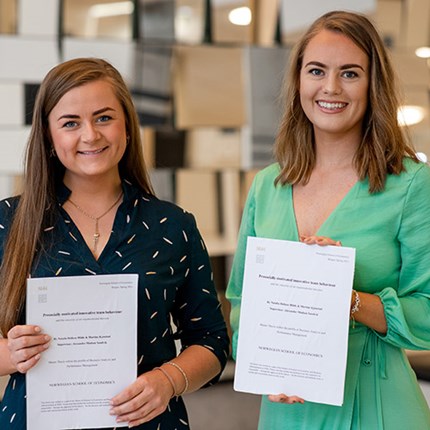 Innovative behaviour is increasingly seen as crucial for organizational performance and long-term survival.
However, little is known about how innovative behaviour is facilitated in prosocially motivated teams - meaning teams with a shared desire to extend effort to benefit others through their work - in mission-driven organisations.
In our study, we aim to fill this research gap. We conduct hierarchical ordinary least squares regression analyses using a sample of 122 employee teams and supervisors in a multinational health corporation.
We find that neither prosocial motivation nor perceived sincerity alone is sufficient to promote innovative behaviour at the team level. Interestingly, however, the key finding of our study is that when teams simultaneously display high levels of prosocial motivation and perceive the prosocial mission as sincere, the level of innovative behaviour is higher.
Our results show that managers tasked with spurring on innovative behaviour among their teams at any level in mission-driven organisations should strive to shape the organisational context to channel the importance and sincerity of the firm's prosocial mission as well as simultaneously encourage the hiring, retaining, and grouping into teams of prosocially motivated employees.
In facilitating innovative behaviour, the firm is giving teams the potential to expand their opportunities to do good for others, satisfying their prosocial motivation.
Given the importance of innovation and the increasing attention paid to prosocial motives and actions by organisations, finally, we reiterate the call for more investigations into the ways in which prosocial motivation arises, as well as how it affects innovative behaviour.
Supervisor: Alexander Madsen Sandvik