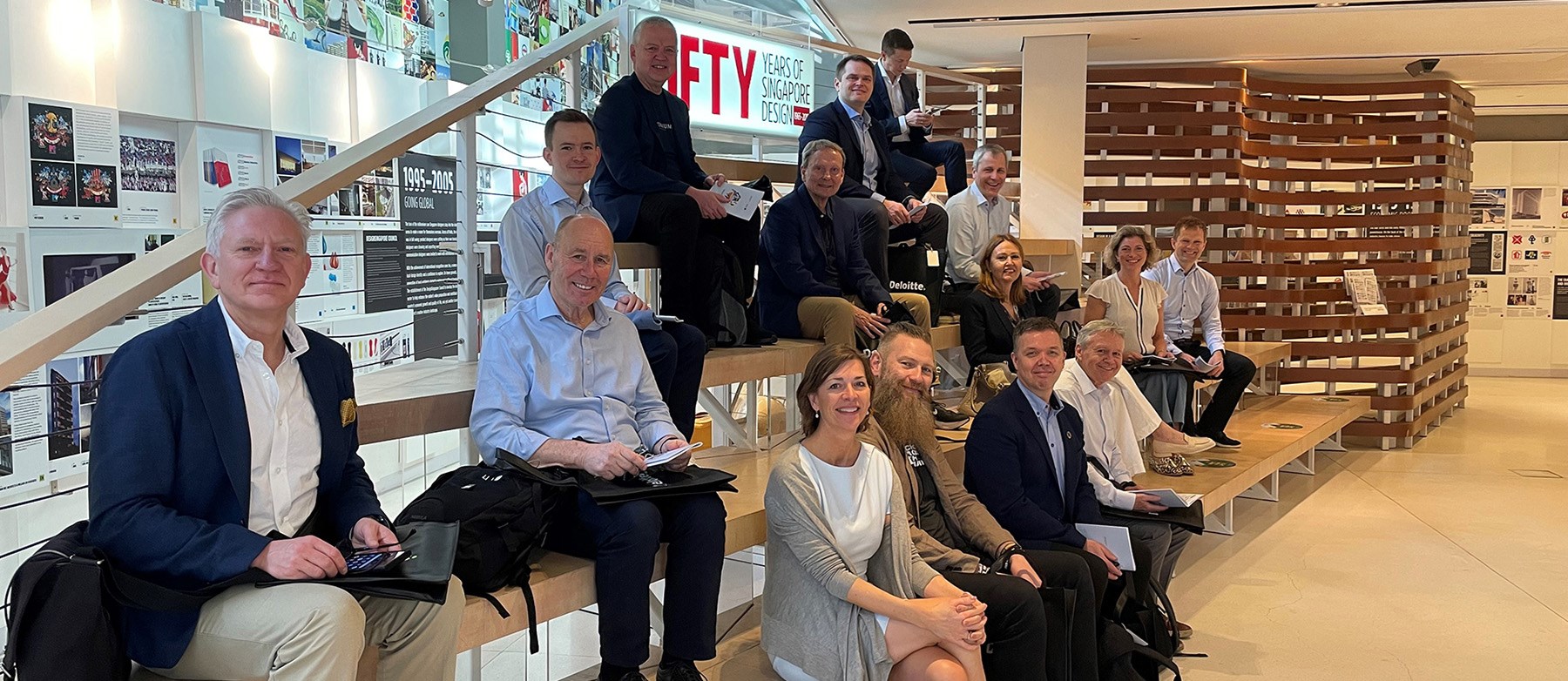 Pathway to innovation – the race project in Singapore
The RaCE project – Radical Technology-Driven Change in Established Firms – together with corporate partners has just returned from Singapore, where they learned to sense and explore pathways to innovation.
The RaCE project finally made it to Singapore! The idea to learn and sense how Deloitte's Centre for the Edge (C4E) works to foster radical innovation was born at our very first corporate workshop in Oslo in 2019.
In early March, the research team at NHH together with partners from Telenor, DNB, Lærdal Medical and Deloitte embarked on a learning journey for three intensive days, with the aim to acquire new insight and inspiration, to facilitate dialogue and reflection within the group as well as with firms and institutions that we met with in Singapore.
The purpose of the trip was to challenge our own thinking and sense what is happening at the edge of our own organizations.
By moving as far away from our day-to-day work as possible, we aim to spark innovation, creativity and new ideas that will help and benefit our own organizations capacity for innovation.
Through the RaCE project we have learned how established firms can develop innovation capacity by sensing what's new, seizing the opportunity and transforming the organization.
Innovation at the edge, which C4E is all about, is one way established firm can increase innovation capacity. C4E in Singapore introduced us to firms and public institutions who are on the edge of developing and adopting radical technologies to foster new business opportunities and value for customers as well as for Singapore and its citizens.
Singapore on the edge
In Singapore we discovered long-term trends that are reshaping industries and how new technologies and new business models are emerging on the edges of the current business landscape.
Why Singapore? As a city-state where geographic constraints became a necessary catalyst for innovation and progress; Singapore is ranked first on the Digital Readiness, it is a global financial hub where the metaverse introduces a trillion-dollar opportunity for Asia, and Singapore has a developed research, innovation and enterprise strategy in place to invest in forefront technologies.
Our first meeting on Singapore's innovation and development strategies was with the inbound investment agency EDB (Economic Development Board), which is responsible for strategies to enhance Singapores's position as a global center for business, innovation, and talent.
Here we learned how and why Singapore has become a world leader within the biomedical industry through long term ambitions and investments combined with execution capabilities.
This visit gave us great insight in the context and ecosystem that firms and the public sector operate within, where long-term growth is enabled by a clear strategy, collaboration between government and businesses, and the ability to attract talent.
Creating value with emerging technologies
The next days we visited firms in telecom, health and banking where some of the highlights were; Singtel introduced us to new business opportunities with 5G; Centre for Healthcare Innovation on how 5G enables "Hostpitals without Walls"; NUHS on the radical innovation in medicine by showcasing "Holomedicine" as well as the Queenstown project to increase healthy longevity (in 2050 40% of Singapore's population will be 60 years or more!);OCBC Bank we learned how long-term innovation and persistence has enhanced customer experience in the banking and insurance industry – key takeaway is the long-term persistence in achieving ambitions and goals as well as top-management engagement. The latter was pointed out by every firm we met with as a key factor to foster and ensure innovation capacity.
"Singapore is a nation by design. Nothing we have is natural or happened by itself. Somebody thought about it."
Prime Minister Lee Hsien Loong