Launching the Spanish Innovation Index
3rd April 2023, the Carlos III University of Madrid (UC3M) hosted the presentation of the 2022 results of the first Spanish Innovation Index (ÍEI).
The ranking of the most innovative companies as perceived by customers and operated by UC3M in collaboration with the consulting firm Neovantas shows how consumers evaluate important companies regarding perceived innovativeness in three important areas of innovation: commercial innovations, digital innovations, and social innovations.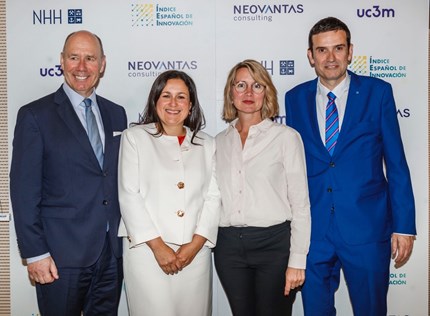 The Innovation Index is a research partnership among leading business schools in several countries: Norway (Norwegian School of Economics), Finland (Hanken School of Economics), Sweden (Karlstad Business School), Denmark (Aarhus Business School), Belgium (Hasselt Business School), Spain (Carlos III University of Madrid), the USA (Gabelli School of Business, Fordham), and Australia (Queensland School of Business).
According to the Spanish Innovation Index and Spanish consumers, Apple won two categories – commercial innovations and digital innovations. For their long-term commitment to sustainability, Toyota won the social innovation index award.
A complete list of the three rankings is found here: Resultados | Índice de innovación (uc3m.es)
Professor Luis Santamaria Sanchez and Professor Lola Duque gave an excellent presentation on the work behind the index followed by Professor Tor W Andreassen, NHH, who gave a keynote speech on Modern value creation considering ongoing research with the innovation index. Professor Helle Alsted Søndergaard, Aarhus Business School, and a Danish Innovation Index research partner took part in the event. She had spent part of her sabbatical at UC3M pursuing joint research interests.
It was a delight to see that the UC3M team and consultants from Neovantas had succeeded in creating interest for the Spanish Innovation Index with a large crowd of leaders from well-reputed Spanish firms included in the index. The participants and winners continued the discussions during the get-together following the conference.