Impressions from the Hub summit
PhD Research Scholar Olivia Kim and NHH student Harald Stensaker share their impressions from The HUB Summit earlier in November.
Poster session on Social media and morality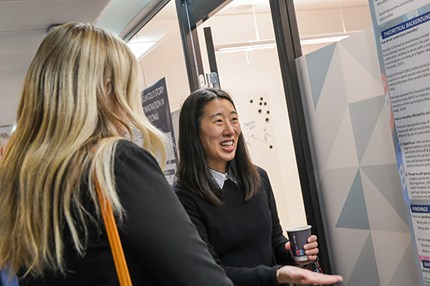 As a second year PhD student in SOL, this was my first poster session that I have participated in, but my impression is that it is a bit different from academic poster sessions - at least in consumer behaviour.
The interest seemed to be more about the phenomenon itself rather than on the underlying or causal mechanisms of a given phenomenon.
I found it very useful both to prepare and present the poster, since it gave me a chance to reflect on my project from different perspectives, and it can be very helpful to clarify the nuanced details.
I really enjoyed speaking to the business representatives, and their feedback and questions also gave me new ideas on the directionality of my study. It was also encouraging to see that people found my research topic interesting.
Olivia Kim
PhD Research Scholar at NHH's Department of Strategy and Management
Debate session between senior leaders and students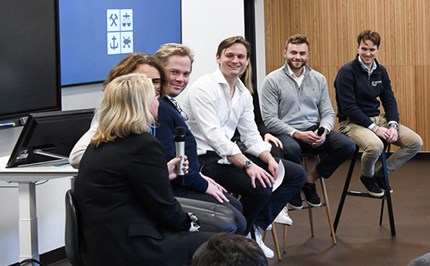 Leading the debate between senior leaders and students was an exciting and rewarding challenge. From my perspective, one of the most interesting take-aways was the difference in how the senior leaders discussed being a leader and how we imagined the conversation would go when we prepared the night before.
We learned not only which personal characteristics the leaders thought were important, but also how they perceived the role of the companies in society. We as students had not reflected as much on the broader role of the companies before the conversation.
In addition, it was cool to see that there is no set way of being a good leader. I particularly remember when Lars Røsæg from Yara said that even if you are a leader "you cannot be someone else than who you are". I think this was a good perspective for the students to hear.
I believe the panel discussion was a great educational opportunity for all students involved, myself included. Students should aspire to leave their comfort zone to learn new things, and that's exactly what we did at the HUB Summit. I am very grateful for taking part in the event.
Harald Stensaker
NHH-student and board member for NHH-Symposiet