Ikea tops Swedish innovation index - the most innovative company 2019
For the second year in row, Ikea is ranked as Sweden's most innovative company.
This is shown by the Swedish Innovation Index (SII), where researchers at CTF, the Center for Service Research at Karlstad University, have let customers assess the degree of innovation in companies and organizations in the Swedish market. Spotify and MTR Express come in second and third place respectively. Read more at CTFs webpage.
The Swedish Innovation Index's theoretically derived measurement instrument is developed from The Norwegian Innovation Index (NII). The two past years Ikea also was on top of The Norwegian Innovation Index. Find the NII 2019 results here.
The NII theoretically measurement is also basis for The American Innovation Index™ (Aii). The Aii covers over 150 firms from more than 20 industries, based on experiences captured from 40,000 customer touchpoints. Also in America Ikea tops the 2019 list, before Apple and Trader Joe's. Read the AII 2020 summary report and find the US top 10 most innovative companies 2019 is shown in the figure below: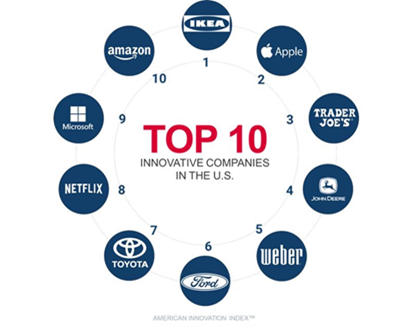 We congratulate Ikea with excellent innovation work!!