M&A and Restructuring is an intensive program that integrates case discussions with the latest research, while drawing on participants' practical experience. It is offered jointly by NHH and the Ivy-League university Dartmouth College.
About the programme
ECTS Credits

20 ECTS

Degree

Master's level
This 11-day program takes place partly in Norway and partly on the campus of Dartmouth's Tuck School of Business (New England, USA).
The program develops practical, hands-on expertise in structuring M&A transactions and resolving financial distress.
Key course takeaways
During the course you will develop a fundamental understanding of:
Target valuation and value creation
Deal initiation and bidding strategies
Auction vs. bargaining over synergies
Payment method and transaction financing
Resistance and conflict resolution
Deal structure, contracting and legal framework
Competition and antitrust
Governance and investor activism
Resolution of financial distress
Navigating bankruptcy
The course is the first joint executive education program between NHH and a US Ivy League university. The course is unique, important, and intense.
It is a unique collaboration between NHH's Department of Finance and Dartmouth's Tuck School of Business, ranked among the top business schools in the world.
It is important because it deals with mergers and acquisitions (M&A) and restructurings, which are the largest transactions the corporation undertakes over the course of its lifetime.
It is intense because it engages you in plenary discussions, group work, and debates around real cases, from early morning to late evening. You will also be exposed to the research frontier, much of which has been produced by the instructors themselves.
Whether you are a corporate decision maker, advisor or investor, this course will help you develop the critical thinking and practical knowledge required for successful execution of M&A and restructuring.
Unique mix of case and research discussion
In case discussions, the course draws on your experience as well as that of other participants in the specific context described in the case. The debate, orchestrated by the instructors, is an integral part of the learning experience.
You will prepare for the case discussions both in advance of the module and in group sessions onsite. The group preparations are intense and allow participants with different backgrounds to contribute to the discussion. In plenary, case solutions draw upon practical recommendations from the most recent empirical research.
This engaging mix of case discussions and research updates, taught by leading researchers themselves, is a unique characteristic of the course. The intense group work will help you build lasting relationships and a valuable network with other industry professionals.
Target group
The target audience for this course includes corporate executives and their advisors, investment bankers, financial analysts, consultants and corporate lawyers, as well as investors and corporate directors.
In order to maximize learning, the course strives to attract a mix of professionals with different business and educational backgrounds and with a global business outlook.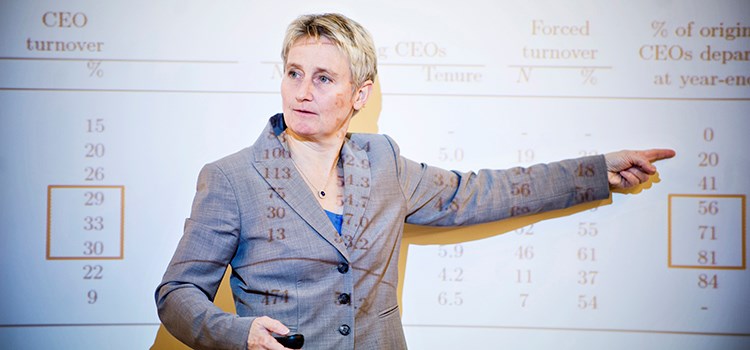 About the programme
ECTS Credits

20 ECTS

Degree

Master's level
Practical information
(1) Does not include travel and accommodation expenses to attend module meetings
Programme structure
12.08.-16.08.2019
Solstrand Hotell & Bad, Os, Norway
Valuation, corporate finance, structuring M&A transactions, and international corporate governance
23.09.-26.09.2019
Tuck School of Business at Dartmouth, New Hampshire, USA
Investor activism, financial distress and bankruptcy, leadership and accounting standards in the context of M&A and restructuring
12.12.-13.12.2019
Soria Moria, Oslo, Norway
Presentation and discussion of specific business cases in the area of M&A and restructuring