from concentration camp to Innovation Manager at Tine
Amela Koluder fled from concentration camp, became Innovation Manager at Tine.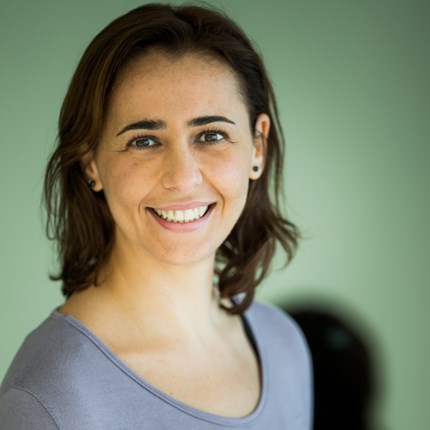 When Amela Koluder was 19 years old, she fled from the concentration camp Heliodrom in Mostar, Bosnia, and came to Norway as a refugee along with 12.000 others.
- Getting to Norway was like coming to safety. Norway has been like a stepmother to me - I was taken care of when I needed it the most, says Koluder.
After two years in Norway, she had learned to speak Norwegian. The year was 1995 and Koluder was determined to get an education. NHH was her first choice, and the 21-year-old set her course towards Bergen.
- I wanted to stand on my own feet. I was so happy about the opportunity I had received to go to school and study, even though the school challenged both my academic skills and my language skills. NHH shaped my identity and developed my business mind.
CEMS master´s
At NHH, Koluder was active in several student organisations, among them «Uken» and «Symposiet». She also represented NHH in Norway and abroad.
In 1999 she graduated from NHH with the top ranked CEMS master´s in International Management. Since then she has had a diverse career working as a brand manager at L'Oreal, category manager at Stokke and Nordic product manager at Jordan. In 2012, the Leadership Foundation named her one of the top 10 role models of the 1st generation immigrants who have succeeded in Norway.
- What have been critical factors to your success?
- Willingness and commitment. A refugee is someone who has survived and who has a tremendous will to create a future. I have tried to take advantage of my experience as a refugee, both during my studies and in my career. In Norway, we have many advantages, but a major drawback is that we are so comfortable that we don´t have to do anything.
Eyes set on the future
Koluder is currently working as an innovation manager at Tine. In her job, she ensures the company always has a strong focus on the future.
- Business development has always been my passion. At Tine I work with creative thinking and innovation management. I also work specifically with developing new concepts, and I am responsible for planning long-term growth and innovation processes.
- What is the most challenging aspect of your job today?
- In a busy life my biggest challenge is to keep my focus on the future. Innovation is critically important for society and businesses. Companies who focus on innovation are the ones who will have a competitive advantage in the future.
Koluder describes the time she worked for Jordan and developed the microfiber washcloth, in which she has a patent, as a turning point in her career.
- I never thought I would end up where I am today, but when I started at NHH the environment inspired me. I realised that I had many opportunities ahead of me, and that I could get wherever I wanted.
- Take risks
Koluder has the following encouragement to students who are curious about a career in business development;
- Be curious and engaged. Take risks and most importantly; dare to think new and do not forget that innovation happens between people. Diversity increases knowledge and trigger creativity.