Alina's NHH network got her a job at Microsoft
2000 applied for the position as an Account Executive at the tech giant. NHH alumni, Alina Selezneva, got it.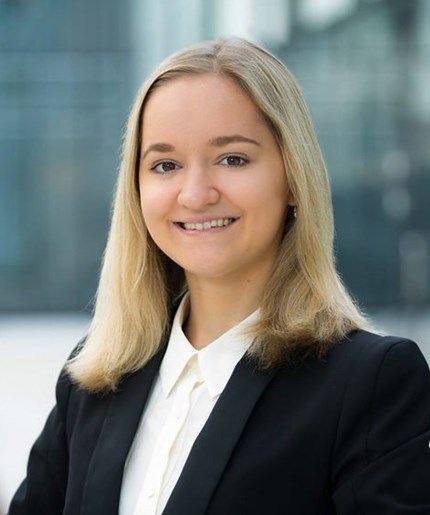 Alina Selezneva (26) is originally from Moscow, Russia, but has lived and studied in four different countries after graduating from high school.
- I like traveling, exploring new places, getting to know different cultures and meeting new people, the young Russian says.
Meeting new people and building networks around the world, places an important role in Seleznevas life. Her international friendships led her to Norway and NHH in 2012.
- I had a friend from Finland who was studying at NHH. He recommended their master program, because of its high quality and great social life. I was very happy when I got accepted.
Networking is key
During her time at NHH, Selezneva made her friends through her engagement in the student union, NHHS. After graduating from NHH in 2015, with an MSc in Marketing and Brand Management, she spoke Norwegian fluently.
Selezneva did not feel ready to leave her friends in Norway, to go back home to Russia. She therefore started applying for jobs in Oslo.
After six months she came across an open position as an Accountant Executive at Microsoft in Oslo. Among 2000 applicants, she was the one ending up getting the job.
- A friend I got to know at NHH, was working at the HR-department for Microsoft in Dublin. He gave the recruiter a good recommendation, and after a thorough and long interviewing process, I was lucky and got the job. It was definitely worth the wait, and it is an example of how important networking is, Selezneva says.
Big responsibility
As an Account Executive at Microsoft, Selezneva has the responsibility for digital transformation of 45 municipalities in Norway.
- There is a large need for municipalities in Norway to digitalize their systems. In my job, I work as a strategic advisor, and my main focus is to help my costumers achieve lower costs and more effective planning through our technology. I have a lot of responsibility, and it is a lot of hard work, but my job is very exciting.
The tech giant Microsoft is a popular workplace for young professionals, and has several times been awarded Norway's greatest workplace.
- As long as I deliver within the objectives that have been set, I get a lot of freedom to decide for myself where I want to work and at what hours. My workdays are therefore very flexible. People who work at Microsoft are also very committed to their job, and everyone plays an important role in the company.
- How does the degree from NHH benefit you in your job at Microsoft?
- It has definitely given me a strong theoretical base, and great analytical skills. During my time at NHH, I also developed good leadership skills, which have been a great advantage for me.
Be open-minded
Selezneva believes international experience is valuable for employers and encourages students to study and work abroad.
- Be open-minded to new experiences and new people. Who knows, they might end up recommending you for a job in the future, the young Russian says.
Sigrid Grøm Bakken