Småbruket is NHH's cabin for employees. All employees, permanent or temporary, are entitled to use it.
The cabin is located at Byrkjesete in Kvamskogen.
The cabin is divided into two comfortably-equipped units. Each comprises a small, modern kitchen, living room and two bedrooms, with six beds altogether. The kitchens are equipped with an induction hob, electric oven, fridge freezer and dishwasher. There are toilets and showers for each section in the basement, along with a small sauna.
Details about facilities and equipment
Both units have their own verandas, which you can reach both from the ground floor outside and from inside the cottages. In nice weather you can enjoy the sun from early morning till late evening. Chairs for the verandas are located in the bedrooms in each unit. Smoking is not permitted in the cabin.
Guide to the cabin (PDF 0,5 mb)
Activities and attractions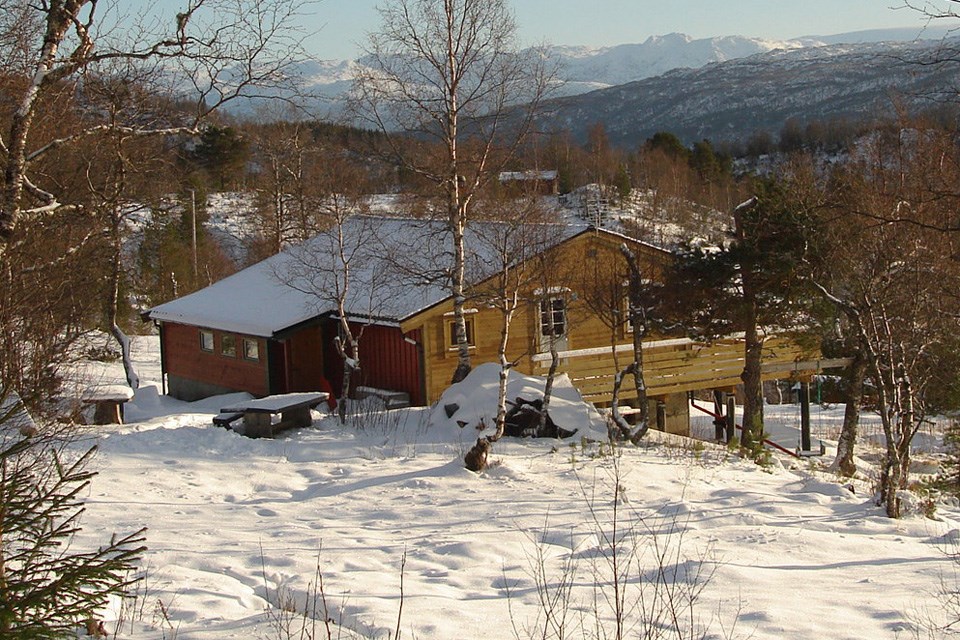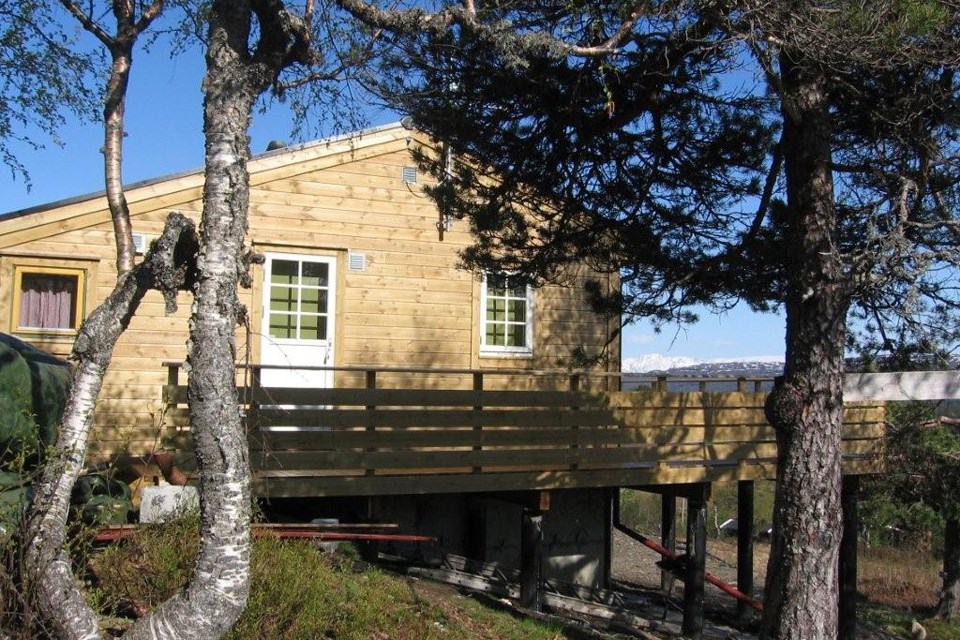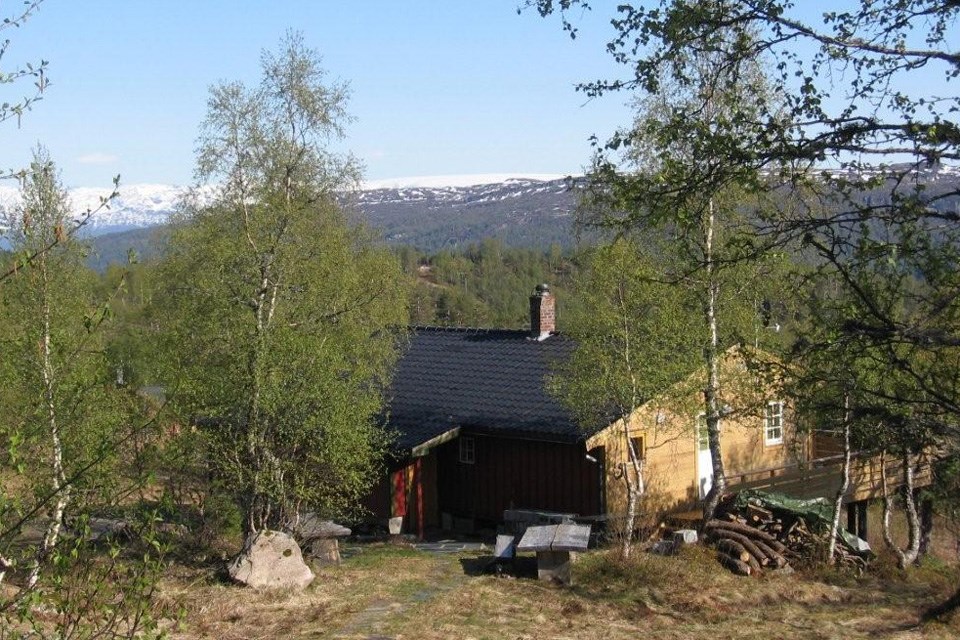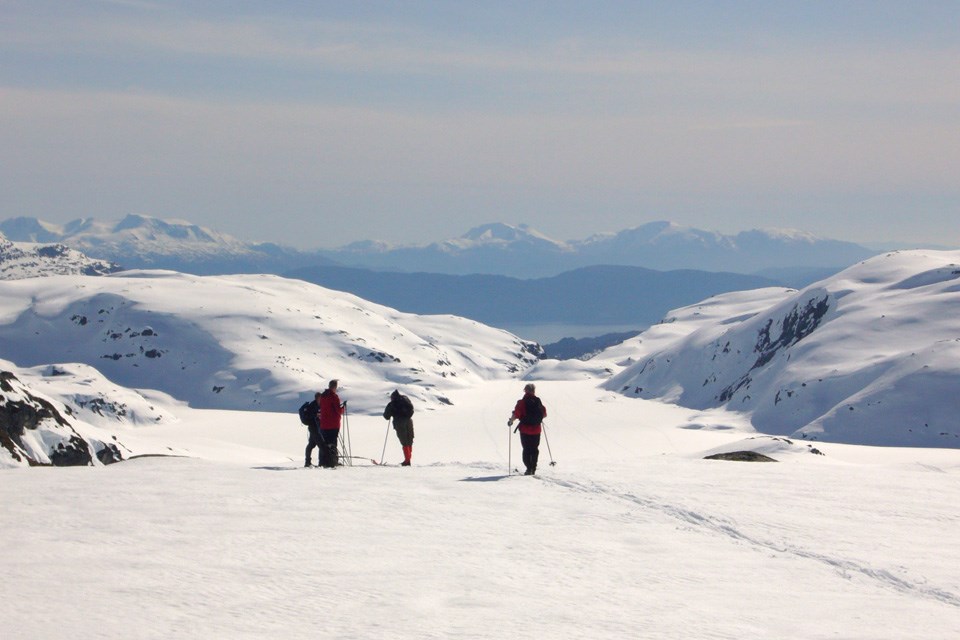 In late spring, summer and autumn there are a lot of hiking trails both north and south of the main road. Many good suggestions can be found on http://www.ut.no
Picturesque Hardangerfjord is just a short drive from Kvamskogen and the area has several interesting attractions. Highlights include Steinsdalsfossen waterfall, Hardanger Maritime Museum, Ingebrigt Vik Museum, Kabuso arthouse, Storteigen rural museum, Sogestien historical path in Fitjadelen, the rock carvings at Vangdal and the beach at Valland. More information can be found on http://www.visitkvam.no
In winter time you can put on your skies on at the doorstep of Småbruket and go for long or short cross-country skiing trips in the terrain surrounding the cottage. In the cabin you will find a brochure (for the time being written in Norwegian only) containing suggestions for hikes both in summer and winter. Kvamskogen has three downhill skiing areas and 60 km of prepared cross-country tracks. There are designated areas for children next to the downhill areas.
Travelling from Bergen
You can reach the cabin by car or bus. The journey by car takes about an hour, as does the journey by bus. The bus leaves from the central bus station in Bergen and passes NHH on its way to Norheimsund. Alight from the bus at the Tokagjelet stop by Byrkjeseteveien, just before the road descends into the Tokagjel gorge. You can check bus times at www.skyss.no.
Småbruket is situated approximately 1 km north of the main road. During late spring, summer and autumn, you can drive through the car park and up to the cabin, where there is space for parking several cars. During the winter and early spring Småbruket rents two parking spaces in the car park at Tokagjelet, next to the main road.
Booking and payment
The availability of the cabin can be checked in Felleskalender.
Booking requests should be submitted via the online booking form
The cabin is allocated two weeks prior to the booking date, at which point the booking becomes binding. Special rules apply in high seasons.
Småbruket is maintained largely via voluntary work by NHH staff, a sociable activity that also awards points. These points give precedence over other applicants wishing to rent the cottage at weekends during the high seasons: wintertime, the school winter holiday and the Easter break.
Prices
Prices for use of the cabin:
Weekend, Friday to Sunday 1 Jun. – 31. Aug.: kr. 250
Weekend, Friday to Sunday 1 Sep. – 31. May: kr. 400
Weekdays, year round: kr. 50
School winter holiday, half week: kr. 600
Easter, first part: kr. 900
Easter, second part: kr. 1000
Prices for use of the reserved parking spaces in the winter:
Weekend, Friday to Sunday: kr. 200
Weekdays: kr. 50
School winter holiday, half week: kr. 300
Easter, half week: kr. 400
Tenants will be sent an invoice by email for the rental period after their stay in Småbruket.
All allocations are binding 14 days before the booked dates. This means that tenants who do not use the cabin they have been allocated will still have to pay for the rental period.
Hyttestyret
The cabin is run by Hyttestyret, a committee comprising employee representatives.
Members of Hyttestyret:
Signe P. Morvik (Leader)
Kari Fjose (Treasurer)
Olga Pushkash (Secretary)
James Hosea (Bookings and communication coordinator)
Atle Askeland (Maintenance)
Fredrik A. Kavli (Voluntary work coordinator)
Aleksander Sandvik (Activity coordinator)
If you have any questions about using or booking Småbruket, please contact James Hosea.