Wifi, guest account, printing and IT support.
Connect your device to the wifi "NHH Guest" and open a browser.
You will then be shown the following page:
If you do not already have a user name and password or a facebook account, please click on the link "Or register for a guest account."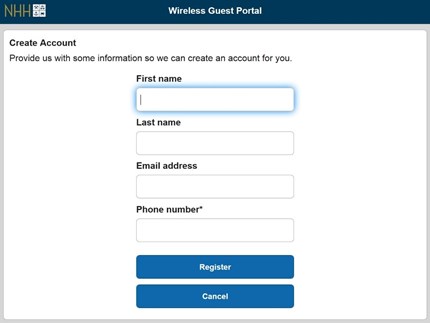 Please fill inn all the required information and choose "Register." You will receive a user name and password by sms.
The registered phone number must be eight digits. For security reasons and to prevent attempts at fraud, NHH only allows Norwegian numbers to register.
If you are visiting from an institution that offers Eduroam, you may connect to the wireless network using your credentials from your home institution. Please contact support at your home institution if you have problems with conecting to Eduroam.
Other services
Guests at NHH should have a contact person at the departmet or office they are visiting. Please go through your personal contact if you need to log on to an NHH computer or network, access to printers or other IT related matters.